Shine a Light
(2008)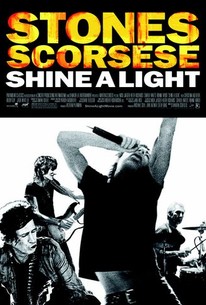 TOMATOMETER
AUDIENCE SCORE
Critic Consensus: It may offer little new for fans, but Martin Scorsese's document of the Rolling Stones' electrifying live show should provide satisfaction to audiences.
Movie Info
This Rolling Stones documentary focuses on the two concerts from the group's current "A Bigger Bang" tour and includes scenes from a recent concert in Austin, Texas. It also includes behind-the-scenes footage and interviews.
News & Interviews for Shine a Light
Critic Reviews for Shine a Light
Audience Reviews for Shine a Light
The beauty of this musical documentary of the Rolling Stones circa 2006 is that you don't really realize the technical brilliance that goes on behind the scenes; and brilliant it is - seamless editing and whirlwind use of hundred of cameras make this Scorscese effort a joy to watch. Anything else you may want to say about the film is strictly about performance, and here the Stones give a pretty darned good accounting of themselves, with Mick still Jumping Jack Flash, in perpetual motion while the band chugs along in their loose, "it's only rock and roll" garage band way. What really comes through here is the brilliance of Keith Richard's supporting guitar play. He is such an expert at nailing the backbeat, which is the soul of the Stones sound. I was also impressed that Charlie Watts - almost 70 I believe, was still bringing it on drums, even at the end of the over 2 hour performance - especially on Brown Sugar. The cameo appearances are fun, with the Jagger duet with Christine Aguilara especially ripping, though I felt that the jam with Buddy Guy lacked focus (and it was obvious that the band struggled with the odd blues progression). Marty interspersed the affair with some archival interview footage that was only occasionally enlightening, with the most entertaining bits concerning bandmate statements about longevity from the 60's. In all - I found this to be entertaining and a true insight into the power of the band - much more intimate than the concert footage from say the Steel Wheels Tour. You don't have to be a Stones fan to dig this - but having an appreciation for music will help.
paul sandberg
Super Reviewer
Grandpa's tearing shit up.
Graham Jones
Super Reviewer
Having already covered such musical talents as The Band in "The Last Waltz" and Bob Dylan in "No Direction Home", director Martin Scorsese now turns his hand to iconic rock 'n' roll band The Rolling Stones. The closeness that Scorsese achieves is nothing short of magnificent. He must have had cameras everywhere and manages to capture the vibrancy of this fabulous band during their "A Bigger Bang" tour, playing at the Beacon theatre in New York. He manages to get so close you can see every wrinkle, every pore and you can almost smell the whisky from Keith Richards. Having been going strong for nearly 50 years (they were formed in 1962) and each band member over 60 years old, they've still got what it takes and can still get a crowd going. Their vibrancy is second to none and you can see why they have lasted so long. Tour footage is intercut with old footage of the band in their younger days and rise to stardom. It also briefly shows how the film was put together with footage of Scorsese conducting his documentary as the legends on-stage conduct their music. You can see Scorsese has a love and a knowledge of this great band. Otherwise, we probably wouldn't hear so many of their classic songs played throughout his films. It's just a shame that the band members have aged. This would have been a much better intrusive film had it been The Stones in their prime. However, they're still an exceptional outfit, Mick Jagger's energy still impresses and they remain my favourite. For Stones aficiondos only. If you count yourself as one, then you'll love it.
Mark Walker
Super Reviewer
Shine a Light Quotes
There are no approved quotes yet for this movie.