Sharks in Venice
(2008)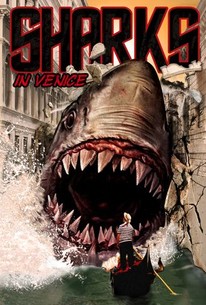 AUDIENCE SCORE
Critic Consensus: No consensus yet.
Movie Info
A world-renowned archeologist and diver discovers a deadly secret lurking beneath the labyrinthine canals of Venice in this salt-water shocker from genre specialist Danny Lerner (Shark Zone, Raging Sharks). Upon learning that his father has perished in Venice under mysterious circumstances, diving expert David (Stephen Baldwin) sets out for northeast Italy in search of answers. When the city's most ruthless mob boss becomes aware of David's discoveries and responds by kidnapping his girlfriend (Vanessa Johansson), it's up to the fearless adventurer to race to her rescue while searching for sunken treasure and avoiding the sizable jaws of the ornery shark that now calls the canals of Venice home.
Critic Reviews for Sharks in Venice
Audience Reviews for Sharks in Venice
½
I've got to give kudos to a movie called Sharks in VENICE that's entirely shot in Bulgaria. Someone got to go to Italy to shoot plates/stock, but it wasn't the cast.
Ken Stachnik
Super Reviewer
½
A B-Movie that makes a common mistake. It sidelines the perfectly ridiculous/stupid idea of Sharks in Venice, for a plot involving hidden treasure and the mafia. I didn't come here for no stale performances from humans, I wanted stock footage mixed with obvious CGI. I did get quite a bit of this, but not enough. Baldwin is a perfectly fine actor that takes, even this role, pretty seriously. There are unintentional laughs, bad accents and even epic medieval battles. It's got a lot, but not enough.
Luke Baldock
Super Reviewer
½
Okay, following Shark Attack 3 is a big feat and I didn't expect this film to be on par with that masterpiece. But dammit, does it ever try. The wooden Stephen Baldwin heads to Venice to search for his father, who, of course, was eaten by sharks in the canals. Along the way he encounters said sharks and mafiosos while stumbling through the illogical and horribly scripted plot. Add a couple booby traps that you have to go well out of your way to get killed by and you have another masterpiece in the already fantastic Shark Attack series. Bring on Shark Attack 5: Shark on Mars.
Christopher Brown
Super Reviewer
Sharks in Venice Quotes
There are no approved quotes yet for this movie.