Shi xiong zhuang gui (Shaolin Idiot) (Look Out, Officer!)
(1990)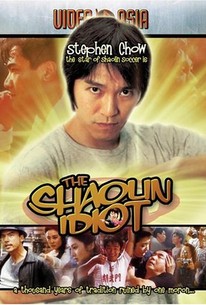 AUDIENCE SCORE
Critic Consensus: No consensus yet.
Movie Info
When an incompetent cop continually fails to clean up the streets, it takes a little assistance from beyond the grave to ensure that justice is served in this action comedy featuring Shaolin Soccer and Kung Fu Hustle star Stephen Chow. A police officer has been murdered in the line of duty, and it will take more than mere death to come between him and the man who took his life. Between a cop who couldn't catch a criminal to save his life and a vengeful entity from the afterlife, there may be some hope for the citizens of Hong Kong after all. ~ Jason Buchanan, Rovi
Critic Reviews for Shi xiong zhuang gui (Shaolin Idiot) (Look Out, Officer!)
There are no critic reviews yet for Shi xiong zhuang gui (Shaolin Idiot) (Look Out, Officer!). Keep checking Rotten Tomatoes for updates!
Audience Reviews for Shi xiong zhuang gui (Shaolin Idiot) (Look Out, Officer!)
½
Stephen Chow has had an interesting career trajectory. The reason I say this is that this man is a martial artist and, yet, that's the last thing he's known for. Of course, Kung Fu Hustle put these skills on display and plenty of his other films have featured plenty of action, but that's not what he's known for. He's known for his absurd and over-the-top comedic style and, dare I say, it's worked out best for him in the long run, since it helps him stand out from the rest. The way I see it, if he had been a straightforward martial arts hero like Jackie Chan, Jet Li and Donnie Yen, he would have just not matched up to any of those three legends. I think Chow looks too much like a goofball to play the truly heroic type. Like I said, I think he realized that he needed something to stand out more and playing the martial arts hero was not gonna be that. Plus, again, I think the silliness suits him far more. Who knows, maybe that's because all I've seen him in throughout the years are incredibly and over-the-top films. I wonder how his career would have played out had he been been more like his more famous counterparts, at least in the full-on martial arts realm. Regardless, I don't think Chow, at least on a more worldwide basis, gets the credit he deserves not only for being an incredibly talented comedic actor, but also an accomplished filmmaker in his own right. That all his movies, for the most part, contain similarities in their humor notwithstanding, he's made some really strong movies for the past 20+ years. Having said that, as far as this movie is concerned, much like Love On Delivery (a movie I reviewed almost two weeks ago), it didn't grab me as much as other Chow films. But, at the same time, this is also one of those movies that I feel would benefit from a quarter rating system, because a rating of 2.75 feels closer to my feelings than 2.5 does. It is still a solid movie, to be sure, but it falls a little short of being what I would call good. Unlike Love On Delivery, however, this movie doesn't start dragging after its first half. The issues aren't related to that. Well, I mean, there really aren't any issues. You see, with a movie like this, you sort of expect them to throw everything but the kitchen sink at you. But, of course, that comes with its own set of caveats Because of this, most of these types of movies end up being hit and miss in terms of its humor. And, I'm sad to say, that happens to be the case with this movie. Perhaps it's more consistent with its comedy than Love On Delivery was but, in my opinion, Love On Delivery had funnier bits. I know it's not fair to compare both movies, since both are doing something different in terms of its story, but they're really the same in terms of its comedy, so I feel that it's fair. Though that's not to suggest that this film doesn't have its funny moments, it's just that they're not as funny as the aforementioned Love On Delivery. It's the same type of silly, goofy and ridiculous humor you've come to expect from Chow's flicks. I will admit, however, that the first parts of this movie were a little rough to get through, like I got the feeling that I was gonna be in for an incredibly unfunny movie. Thankfully, after the rough start the movie does pick up once Detective Biu returns as a ghost to get help from his savior which, of course, is Chow's character, in order to solve his murder. Because of course it would be the absolutely goofiest man in the police force. Regardless, one of the things that I like about this movie is that, for the most part, everyone is completely cool about the crazy shit that's happening here. Sing (Chow's character) is a little bit scared by Biu's appearance as a ghost but, other than that, everyone else is just normal about all the crazy shit that's going on. Biu's partner, as an example, uses the help of this deity, I think, in order to stretch his hands out like he's Mr. Fantastic. And, you know what, it's about as normal to him as getting a glass of water. I don't know why, but I liked that commitment. Just have everyone act as if everything is normal in spite of all the crazy shit that is obviously going on around them. The humor, though, as I mentioned is hit and miss and there's some gay panic-y humor here that's incredibly retrograde, not to mention how some of the scenes portray Hong Kong's Vietnamese residents and how those there view them. Yes, different countries and different cultures in completely different eras, but it's still kinda cringe-y to see regardless. This probably might end up being my shortest review in a minute as I really don't have much else to say about this. It's just one of those movies that didn't really inspire me to say much about it, there's just something about it that makes it more difficult for me to put into words how I felt about it. Especially when compared to some of Chow's other films. You're just gonna have to watch it for yourself and make up your mind about it. It's a better movie than the rating would imply, that's for sure, but it still falls short of what most people would expect, in terms of quality, from a Chow movie. This is only lightly better than average movie. I wouldn't give it a glowing recommendation, but Chow completionists, if there is such a thing, will probably need to consume and dissect this as if it was high art. Regardless, if you're looking for something silly and easy to watch, this might do the trick for some of you.
Jesse Ortega
Super Reviewer
Shi xiong zhuang gui (Shaolin Idiot) (Look Out, Officer!) Quotes
There are no approved quotes yet for this movie.