Shanghai Surprise
(1986)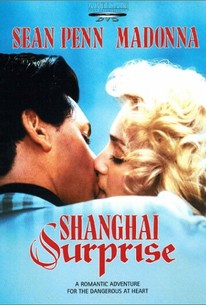 Movie Info
Madonna and Sean Penn, who were husband and wife at the time, starred in this notorious box-office bomb that one critic termed "Flop Suey." The film takes place in 1937, during the Japanese occupation of China. Drug runner Walter Faraday (Paul Freeman) is trying to leave the country with a large stash of opium but he is chased by armed guards and killed. A year passes and missionary Gloria Tatlock (Madonna) hires sleazy American con man Glendon Wasey (Sean Penn) to help her find the missing opium. She wants to use the drugs to relieve the suffering of wounded Chinese soldiers -- as she puts it, "Guns cause pain. Opium eases pain." Glendon reluctantly agrees. But unfortunately for the two do-gooders, there are other, more notorious seekers of the opium shipment as well. George Harrison, one of the film's producers, wrote the songs and appears in a cameo role as a nightclub singer.
Critic Reviews for Shanghai Surprise
All Critics (8) | Fresh (1) | Rotten (7) | DVD (6)
It feels, more than anything, like the duo went looking for a movie they could co-star in, and this was the only script that was lying around.
Madonna's incompetent performance secured her reputation as a no-talent actress...and, to date, she still hasn't been able to shake that reputation.
Striking visuals and some good George Harrison songs can't save it.
October 15, 2003 | Rating: 2/5
Audience Reviews for Shanghai Surprise
So so so boring, I caught this on TV last night, and I couldn't even understand what Penn was saying or what they were supposed to be doing in the movie. The story is ridiculous and I'm like it's supposed to be a romance or what? It was too boring for me to care, so I switched channels before the end. Stay away from this movie, it's just horrendous.
This movie gets 1 star for Sean Penn and 1 star for Madonna and that's pretty much all it had going for it!
Sarah Prisbylla
Super Reviewer
I really don't know where to start... and I really don't know where to end! This balant Indiana Jones/ Romancing the Stone rip-off is one of the most tedious, tiresome, and dull films I've ever seen. I'm pretty sure that's all that really needs to be said.
Shanghai Surprise Quotes
There are no approved quotes yet for this movie.