Shane
(1953)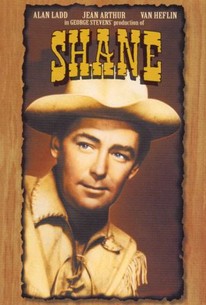 Movie Info
The story of a Wyoming range war is elevated to near-mythical status in George Stevens' Western classic Shane. Alan Ladd plays a mysterious drifter who rides into a tiny homesteading community and accepts the hospitality of a farming family. Patriarch Joe Starrett is impressed by the way Shane handles himself when facing down the minions of land baron Emile Meyer, though he has trouble placing his complete trust in the stranger, as his Marion is attracted to Shane in spite of herself, and his son Joey flat-out idolizes Shane. When Meyer is unable to drive off the homesteaders by sheer brute strength, he engages the services of an evil hired gun.
News & Interviews for Shane
Audience Reviews for Shane
George Steven Jr.'s epic about grit involved by the homesteaders when going against the cattle barons is given a beaut of a spacious locale (The Grand Tetons) to underline the lives of the small people struggling beneath them. Ladd is stoic as the gunfighter trying to leave his past, paired against, and with, the warmer-hearted Van Heflin as a sturdy minded if poor homesteader. Their duality gives the mix it's gumption, beginning early with the men tackling the big job of a deep-rooted stump of a dead tree. Stand out performances from Jack Palance and, as ever, Elisha Cook Jr. while Jean Arthur has to make do with the fewest of lines to sketch a woman torn between two men.
Kevin M. Williams
Super Reviewer
½
The dazzling cinematography that explores the bucolic and idyllic landscapes, together with the strong ensemble cast, contributes to make this an unforgettable Western tale about a complex, divided hero and the relationship that he develops with a peaceful family.
Carlos Magalhães
Super Reviewer
Often considered a high watermark for the western genre, and an integral part of the mythologizing of the Old West, this is George Stevens's production of that age -old story of a rugged loner who, bound by a sense of honor and decency, finds himself returning to a life he long abandoned and vowed to never return to, but does, because he realizes there is a greater good in it, even if it weighs heavy on his soul. In simple terms (as this is a simple and straightforward movie), this is about a loner and retired gunfighter named Shane who one day comes across the land of a simple homesteader, and stays to help defend the man against a wealthy cattle baron and his thuggish hired guns. Even when this was released, the story was nothing new, and yet, there's a very endearing quality about it that makes it hard not to like. I am underwhelmed by it, as I didn't end up loving it like I've been told I should, but relax, I still liked it, even if it did sorta let me down. Part of the reason may be because of the fact that the stroy is so simple and straight forward. There's nothing really complex or deep on display, although I was suprprised by the ambiguity and maturity of the ending. I wasm't expecting that, but I do really appreciate it. Now, I had the final scene spoiled for me many tiems before, but seeing it in context it was really makes it work, and where the ambiguity comes in. I figured given the time period, it would have been more neat, tidy, and on the nose, but I won't complain with how they decided to do it. Despite the simplicity of the rest of it though, the film sure feels a lot longer than two hours, and the drawn out-ness could have been used to greater effect. Either that or cut the running time down to the bare essentials. Despite the above nit picking though, this is a pretty solid film. The casting is good, and the performances are quite good. Alan Ladd is terrific as Shane, Jack Palance is in good form as the thug Jack Wilson, and even the little kid Brandon De Wilde isn't annoying enough to derail thigngs. Plus, the cinematogrpahy is just excellent, and I can see why it got so much acclaim back in the day. The film might be pure cliched formula, and perhaps a tad too sentimental and simple, but it is quite charming, and it has artistic merit. Even though it is overrated and underwhelming (mostly), I still recommend it, as it did help shape popular perception of the west and westerns in a significant way.
Chris Weber
Super Reviewer
Shane Quotes
There are no approved quotes yet for this movie.