Un Baiser s'il vous plaît (Shall We Kiss?)
(2009)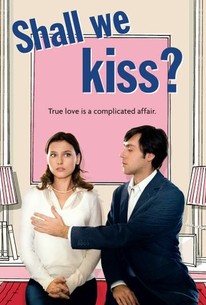 Un Baiser s'il vous plaît (Shall We Kiss?) Photos
Movie Info
Emmanuel Mouret's romantic comedy Shall We Kiss? begins with two strangers who end up attracted to each other, even though they both are involved in relationships with others. The woman refuses to kiss the man goodnight after a dinner together, explaining that a single kiss can alter a life. This set-up acts as a framing device for the main story, a tale she shares with him about friends who complicate their lives by becoming sexually involved. ~ Perry Seibert, Rovi
News & Interviews for Un Baiser s'il vous plaît (Shall We Kiss?)
Critic Reviews for Un Baiser s'il vous plaît (Shall We Kiss?)
Audience Reviews for Un Baiser s'il vous plaît (Shall We Kiss?)
½
Convuluted hijinks as friends decide to take things just a little step furthur to temporarily ease the loneliness of one ... nobody'll get hurt, right? We'll still be friends, right? Wrong. You could pass on this light truffle.
Kevin M. Williams
Super Reviewer
½
The narrators storyline ruins what the rest of the movie seems geared to accomplish. What few merits this film has unfortunately fall apart by the end. If you feel for the characters at all, you will not by then. One of those movies that the critics seemed to like, and I just don't see why....
Cynthia S.
Super Reviewer
Dumped and despondent, Nicholas needs to empty his balls, so he turns to his long-time best friend, Judith. But after their first affair, they realize that friends with benefits leads to love. Now committed to one another, they must arrange to lightly let down their other significant others. While billed as a romantic comedy - and there are certainly bits that attempt to imitate Woody Allen's best in manipulative and situational absurdity - there are only a few laugh-out-loud moments. This stems from the simple fact that these characters are remarkably staid and uninteresting -- or at least portrayed by actors who fail to give them much emotional life and presented by a director who shoots almost the whole film in motionless two-shots; the cinematography almost hearkens back to the early days of film when they thought that because the best seat in a theater was front and center, the camera shouldn't move from that position. What is more, we need someone - the actors, director, writer, craft service guy - to make a decision about whether Nicolas's original proposition is a crafty manipulation in order to fuck Judith or should we take him at his word that he simply, honestly needs physical affection and his best friend is the most logical choice. Is this a mature but ill-advised request or a clever ploy? A point so instrumental to the plot shouldn't be so mysterious. When we get to act two, the film's Woody Allen homages come to the fore. Now the couple has to manipulate Judith's husband to falling for another woman. But whereas Allen has a clear point about the monotony of monogamy and the cruelty/desperation (depending on the film) of humans in love, I don't see any such statement here. Rather, it seems like they're attempting to be logical and kind, but how is it that they fail to recognize the clear ethical dilemma in which they find themselves. Overall, Shall We Kiss is a structural and thematic mess with doses of charm too rare to ignore the film's flaws.
Jim Hunter
Super Reviewer
Un Baiser s'il vous plaît (Shall We Kiss?) Quotes
There are no approved quotes yet for this movie.