Sexy Evil Genius
(2013)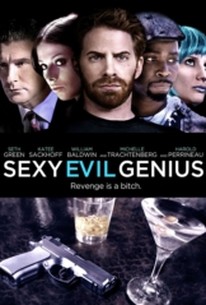 AUDIENCE SCORE
Critic Consensus: No consensus yet.
Movie Info
Drop dead sexy and certifiably insane, vengeful Nikki invites four of her ex-lovers to an L.A. bar for a meeting that will drastically alter the course of their lives - or at least what's left of them. Seth Green, Katie Sackhoff, William Baldwin, Michelle Trachtenberg, and Harold Perrineau star.
Critic Reviews for Sexy Evil Genius
There are no critic reviews yet for Sexy Evil Genius. Keep checking Rotten Tomatoes for updates!
Audience Reviews for Sexy Evil Genius
This is a pretty good movie thanks to its smart script and its solid cast. I don't wanna say I was surprised by how smart the script was because, again, it's not like I go into a movie expecting the script to suck, but I was surprised because it's clear that it was written by someone who loves movies, as there are references to noir films from the 40s like Double Indemnity. I'm sure the framing of the story also borrows a lot from that, as Nikki is a femme fatale, a stock character most associated with 40s noir films. So it's clear that this script wears its influences on its sleeves. But, even with that, I found the story, or the reason for why Nikki has gathered her ex-lovers, and her current fiancee, in this bar, to be actually pretty intriguing and interesting to follow. The characters find themselves discussing their relationships with Nikki and discussing her past and how, and why, she's brought them all together. They give you little bits and pieces of Nikki's past and the things she's done and they make you question Nikki's sanity. You, as a viewer, are as much in the dark as the exes themselves and, again, that makes viewing to the end far more rewarding once the pieces of the puzzle finally start to fall into place. With that said, the movie is pretty much all dialogue, it's all about the mystery regarding the reasons for why Nikki has gathered them all together. A mystery that is, obviously, left for the climax. Since most of the movie takes place in the bar, outside of the flashbacks, and on top of that with the dialogue-heavy approach, it might come across like the movie is slow. But I find it's anything but, because I found the story compelling, I was invested from the very beginning. While the film wasn't great, I wanted to see it all the way to the end to see what Nikki had stored up her sleeve. And I found the climax to be satisfying because it has a nice little twist to the story and once everything falls into place, and Nikki's reasons are revealed, there's a nice little wrench thrown in there as Nikki's plan was executed about as perfectly as she had intended. It didn't go exactly the way I expected it too, and that's part of what I liked about the film. You're expecting the film to go one way and it goes in and does something different. It's not a super shocking twist or anything of the sort, but it is good nonetheless. And that also creates an interesting little debate at the end. The big theme the characters in the bar spend debating is whether or not Nikki is a psychopath. This was a big theme. By the end of the movie, the debate intensifies because you're not sure whether she is really that smart or if she's back to her psychopathic ways. You'd think that if she, indeed, was psychotic, then her plan would've felt a little more messier and sloppier. The execution of her plan was anything but those aforementioned things. It went as smoothly and as perfectly as she intended. So it's interesting to debate whether or not she relapsed back to her old ways or not. I'd like to think she doesn't because, again, the plan was executed a little too perfectly for someone who's supposed to be insane. With that said, yea the film has some obvious technical flaws, but that shouldn't keep you from enjoying it thanks to its smart script and its talented cast. I quite liked this movie.
Jesse Ortega
Super Reviewer
MisterYoda ?
Super Reviewer
½
A disappointing film with a dreadful script but a nice ensemble. It's a story about an insane woman invited many of her exes to execute her revenge. It's dialogue heavy and has many annoying flashback, the film lacks a structure and requires more refinement. It used it's limited budget well, but they could really pay more for a better screenwriter.
Sylvester Kuo
Super Reviewer
Sexy Evil Genius Quotes
There are no approved quotes yet for this movie.