Sextette
(1978)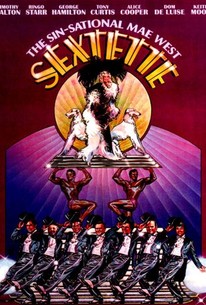 Movie Info
In this disastrous mistake and sad send-off to a brilliant film career, Mae West, at 85, once again goes through the paces as a screen sex goddess. West plays Marlo Manners, who, with her latest husband, Sir Michael Barrington (Timothy Dalton), reminisces in their honeymoon grotto about all the men in her past. In a mad parade of her past conquests, she recalls Laslo Karolny (Ringo Starr), the imperious German film director; Vance (George Hamilton), a well-dressed thug; Alice Cooper as a creepy waiter; and Keith Moon as a swishy fashion designer. The international scene outside of the boudoir heats up when the U.S. government begs Marlo to spend the night with Alexei Karansky (Tony Curtis), a Russian diplomat, to preserve world peace.
Critic Reviews for Sextette
Audience Reviews for Sextette
This was no way for Mae West to end her storied career but unfortunately it was the end of the line for her. Simply awful and embarrassing. Even for camp aficionados this will be rough going.
½
The Village People's "Can't Stop the Music" and the Peter Frampton/Bee Gees take on "Sgt. Pepper's Lonely Hearts Club Band" draw most of the heat, but "Sextette" deserves equal enshrinement as one of the disco era's ultimate film catastrophes. Mae West essentially plays herself as actress Marlo Manners, humbly introduced as "Hollywood's all-time superstar" and "the greatest sex symbol the screen has ever known." Her list of lovers is even more outrageous than her age-hiding makeup, and she has just married her sixth husband, Sir Michael Barrington (Timothy Dalton, during his hungrier years). She and Michael have retired to their honeymoon suite and are eager to git busy, but the paparazzi (including Regis Philbin and Rona Barrett), ex-husbands (Ringo Starr, Tony Curtis, George Hamilton) and Marlo's entourage (notably Dom De Luise, perhaps the only cast member who comes off well) are a steady obstacle. Songs keep popping up regardless of how loudly you protest, and they aren't even originals except for a pair written by Van "The Hustle" McCoy. Instead you get nuggets such as "Love Will Keep Us Together" (this is why James Bond never sings), "Baby Face," "After You've Gone," the Beatles' "Honey Pie" and "Hooray for Hollywood." Usually with slick, period-dated arrangements. Awkward subplots feature a world-government conflict that only Marlo can solve (the Jimmy Carter lookalike is a tasteless cringe) and a pink cassette of her memoirs that she paradoxically labors over despite believing it needs to be destroyed. Don't miss the cameos of Keith Moon and Alice Cooper, though. Moon (sadly near death) is a flamboyant costume designer, and an unrecognizable Cooper is a well-groomed waiter who performs the film's only semi-listenable song on piano. Seeing a slimmer De Luise tap-dance is another fun surprise. West probably deserves some leeway, considering she was eighty-something at the time. It's ludicrous to present herself as a lust object who would drive men like Dalton and Hamilton wild, but she does supply an adequate string of one-liners to swat back obvious set-ups such as "I'll keep a stiff upper lip." Har har. (Actually, one pun about director Ernst Lubitsch is quite clever, and there's also her oft-quoted "...or are you just happy to see me?" quip.)
Eric Broome
Super Reviewer
Sextette Quotes
There are no approved quotes yet for this movie.