Sex Positive
(2009)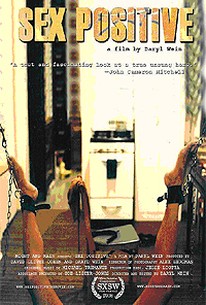 Movie Info
Documentary filmmaker Daryl Wein explores the life and legacy of revolutionary gay S & M hustler-turned-AIDS activist Richard Berkowitz, whose noble efforts in promoting safe sex during the 1980s have been all but forgotten in the early years of the new millennium.
News & Interviews for Sex Positive
Critic Reviews for Sex Positive
Audience Reviews for Sex Positive
This woefully short doc, in essence, tells the story of the invention of safe sex and the split within the gay community over how HIV is transmitted. On that ground alone, Sex Positive is required viewing. The information presented and people profiled are as integral to American history as Washington, Lincoln, Franklin and King. Why? Because before they took a stand for what they believed, no one had heard of safe sex. Now that term is nearly ubiquitous throughout the world. The entire story of AIDS, from the first cases to the governments non-action to the activists to now, deserves more than 75 minutes to connect the people involved and document this important part of history. Good start, even with the somewhat lacking camera work and terrible jump cuts within interviews.
Jason Vargo
Super Reviewer
Sex Positive Quotes
There are no approved quotes yet for this movie.