Severance
(2006)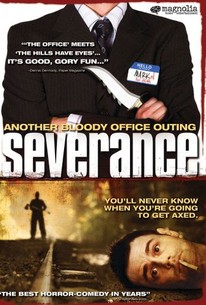 Movie Info
An international arms dealer rewards his six-member sales division of corporate execs with a weekend team-building retreat in the mountains of Eastern Europe, where they encounter a renegade band of war-crazed soldiers seeking revenge.
News & Interviews for Severance
Critic Reviews for Severance
Audience Reviews for Severance
½
Some employees of an international arms dealer go out into the Hungarian wildeness for a weekend company retreat, only to find themselves menaced by a group of militants who don't like having them around their territory in this modestly budgeted dark comedy/horror film from Christopher Smith, who also directed Black Death (with Sean Bean). The film takes the American slasher formula, and plays with it a bit by adding some wry British humor with a dark edge, as well as starting things off in medias res and not completely following convention. Overall, it's not too bad. It's not the best thing in the world, but it is pretty fun and entertaining. The cast seem to get along with each other quite well, and there's a great sense that this film isn't meant to be taken too seriously, and that it was probably really fun to make. The make up and effects are well done, and there's some pretty good kill scenes, though in the story department it's a little forgettable and could have been beefed up more. If you like quirky takes on genre movies, a la Shaun of the Dead, then you'll probably get some enjoyment out of this. It's a nice little take on a well worn genre.
Chris Weber
Super Reviewer
Enjoyable horror film with a good cast, Severance is an interesting horror comedy that though bizarre is very well done. As a low-budget horror comedy outing, Severance is an impressive film that is original and lots of fun from start to finish. The film is not flawless of course, and the film at times struggles in delivering the material, however for the most part, director Christopher Smith delivers a fun film. I found the plot for this film to be very original, and that Christopher Smith was able to deliver good funny moments, and still have enough momentum to deliver shocking moments. Severance is a breath of fresh air in the horror genre. It's one of those rare gems that you need to watch if you're a Horror buff. In this one, its riddled with traditional Horror Clichés yet you don't seem to care because the film is so good and so much fun. If you haven't seen this film, do yourself a favour and watch, you'll be pleasantly surprised. Though it's not perfect, Severance is a good time and will definitely please fans of other recent horror comedies. This is a very well acted film with memorable moments and if you enjoy a bloody, gory good time, then this one is definitely worth your time. Christopher Smith is a good director and he directs yet another worthy film with this intriguing horror comedy.
"Another bloody office outing." A team-building weekend in the mountains of Eastern Europe goes horribly wrong for the sales division of the multi-national weapons company Palisade Defence when they become the victims of a group of crazed killers who will stop at nothing to see them dead.
REVIEW
A group of white-collar weapons manufacturers go on a "team-building" retreat in Hungary. After their driver abandons them in the middle of the woods, they find a run-down lodge that they assume is their destination. Unfortunately for them, there's something seriously ticked-off hanging out in the woods, ready to pick them off. Holy moly! "Severance" is where it's at. I feel like this is the movie that Eli Roth tried to make with "Cabin Fever" and "Hostel," but didn't quite nail it. It's outrageously funny and ridiculously gory. The thing about this one is that it's a horror/comedy that actually tries to be as scary as it is funny, and it mostly succeeds. It successfully uses 70s and 80s horror movie clichés, yet pokes fun at them at the same time. That makes it a rare gem, in my book. The ensemble cast works well together. American Laura Harris manages to fit in well with her British costars, and Danny Dyer is simultaneously obnoxious and charming as the office flunky. This one's a winner all the way around, and I'm sure most genre fans will find something they like in this one.
Lorenzo von Matterhorn
Super Reviewer
Severance Quotes
There are no approved quotes yet for this movie.