Seven Pounds
(2008)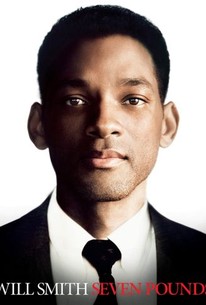 Movie Info
Ben Thomas, an IRS agent with a fateful secret, embarks on an extraordinary journey of redemption by forever changing the lives of seven strangers.
News & Interviews for Seven Pounds
Critic Reviews for Seven Pounds
Audience Reviews for Seven Pounds
½
the film was extremely jumbled and the love story was contrived, but everything else about this film was above average. smith puts in a characteristically solid performance, and the film was powerful despite being extremely predictable from the outset. i would have liked a bit more of the side stories, but i do see the point in drawing emotion from the story between dawson and smith's characters so the desire to see the other stories fleshed out is lessened. overall, good film.
½
Is "Seven Pounds" as bad as all the critics said? Almost. The critics savaged this film when it came out, going a bit overboard, as they are wont to do. Perhaps in their puny subconscious minds Will Smith was due for some backlash, just as Halle Berry was when "Catwoman" came out. "Seven Pounds" is not so much bad as under-developed. There is interesting subject matter, but first-time screenwriter Grant Nieporte appears not to have had any idea how to explore the ideas and develop a real story. What he did was basically just provide the outline for a story. The script has all the depth of something Kim Kardashian would write if she took a Creative Writing course. Without giving away the details and surprises, I'll simply say that a man responsible for a horrific tragedy (the character played by Smith) attempts a form of redemption by making extraordinary sacrifices for others. I won't give away what he does for them, but it's not what you think. This would be quite interesting to explore. How many stages of grief did the man go through? What difficulties has he had in figuring out a way to live again? How were his relationships impacted? What sorts of attempts did he make at healing? Which ones were more successful than others and why? And what counts as "success" in grieving anyway? How did he come up with the idea for the sacrifices he makes? What sorts of mixed feelings did he have about the sacrifices? What kind of complex emotions did the recipients of his generosity feel? There's the obvious gratitude. But surely a serious screenwriter would be more interested in the darker complexities of such situations. Nieporte had no interest in any of this. All he wanted to show was simple grief, simple generosity, and simple gratitude. He clearly is not an artist. At heart he's probably a greeting-card writer. Very simple sentiment. Italian director Gabriele Muccino, who first directed an American film in 2008 ("The Pursuit of Happyness," also starring Smith), seems to revel in the simplicity of the script. He directs in a mind-bogglingly pedestrian way, using one schmaltzy cliche after the next. The only real creativity is in the editing, which is at times intriguing. This film project could have gone somewhere. But unfortunately it never really got off the ground. Even a good cast (Smith is joined by Rosario Dawson and Woody Harrelson, among others) can't do much with it. There's just so much actors can do when the screenwriter and director are aiming resolutely for superficiality.
William Dunmyer
Super Reviewer
An IRS investigator journeys about looking for good people to give stuff to. The first act of this film is spent trying to hide information from the audience. I suppose director Gabriele Muccino thought that revealing Ben's history provided more dramatic impact if than the story itself could provide, and so she resorted to gimmickry, but all it accomplished was pissing me off. I like stories about good people trying to do the right thing in the face of horrid circumstances, and this is such a story, but it's simply not told well. Also, I think the story would have been more realistic had more people, especially Emily, questioned Ben's motivations; after all, in the real world people who do nice things are almost always accused of having ulterior motives. Will Smith's performance is reserved and stoic, but unlike his other dramatic turns, like in The Pursuit of Happyness, Smith's natural enthusiasm doesn't come out; it feels like he's choking himself to remind all involved that this is heavy-handed drama. Rosario Dawson is good, playing the sweet, charming, damaged character with charm and grace. Overall, there are an awful lot of flaws in the way the story is told, but I like the basic premise.
Jim Hunter
Super Reviewer
Seven Pounds Quotes
There are no approved quotes yet for this movie.