Set It Up
(2018)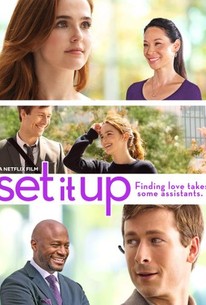 TOMATOMETER
AUDIENCE SCORE
Critic Consensus: Set It Up follows the long-established outlines of the rom-com template -- and in the process, proves there's still substantial pleasure to be wrought from familiar formulas.
Movie Info
Harper and Charlie are overworked, underpaid assistants wasting their 20s slaving away for bosses who treat them like dirt and work them 'round the clock. When they realize that they would have much more free time if the people they worked for weren't single, they concoct a plan to lure their bosses into a faux-romance.
News & Interviews for Set It Up
Critic Reviews for Set It Up
Audience Reviews for Set It Up
You know, if you were to have asked me what my least favorite film genres were, I'd have said rom-coms and evil child horror movies (though that's a really a subgenre. I think the perception of rom-coms being sentimental cheesefests was something that was just too much for me to take. But, in all honesty, I've come to the conclusion that I don't really have anything against the romantic comedy genre itself. The reason I've come to this conclusion is because of my constant criticism of people who shower blanket criticisms at the found footage genre. That there are bad movies using the found footage style cannot be denied, but that shouldn't be used to justify disdain for a genre that can be used to really cool effects. It all depends on the crew behind that particular film. If they're committed to putting forth a quality product, who gives a shit what style of filmmaking they use??? By that same token, I've realized that, obviously, I hate bad movies more than I hate the rom-com genre. I've seen some bad rom-coms in my day. Just like I've seen some bad action movies in my day. Just like I've seen some bad sci-fi movies. I could go on and on. The problem isn't the 'limitations' of the genre, it's the quality of those films that should matter, not the genre they fit into. The reason I bring this up in relevance to this flick is because, surprise surprise, this was a breezy and enjoyable romantic comedy. Interestingly enough, the concept of playing god is usually left for movies that can tackle those types of moral dilemmas like, say, sci-fi or even horror movies. You don't expect this in a romantic comedy. Though, of course, if I'm being fair, this movie doesn't really look at the complexities of playing god. It obviously use the concept in a more one-dimensional way and I've got absolutely no problem with that. I think it would have been weird if the movie tried to be this cute, light-hearted rom-com while also exploring the ideas of whether or not it's morally correct to play god with people's lives. The concept is certainly decent enough and they do get more mileage out of it than I would have anticipated. These two overworked assistants team up in order to set up their bosses so they can have some time alone to themselves. Be able to rest, spend time with their loved ones, go on dates, etc. Of course, however, there's also the typical 'will they, won't they?' between Harper and Charlie. Though, to be fair, I think the movie does a good job at not rushing into that, doing so at a point later in the film than what you'd normally expect from this type of movie. So I have to given them props for that, since a lot of these movies would probably start teasing it earlier, with quick glances, little moments between Harper and Charlie that would have given the end result away. Not that there's any sort of unpredictability in this movie. You know what the end result is gonna be and there's no deviation from that. But delaying the inevitable was a small touch that I liked. I also do like, and this might not be necessarily unique to this movie, but how it explores the idea of how well do you really know the person that you're with. For example, Charlie is in this relationship with Suze, a model or something, and they know nothing about each other. This, of course, it's explore in 'greater depth' later in the movie when Kirsten (Harper's boss) is in love and close to marrying Rick (Charlie's boss) without really knowing much about each other. I put greater depth in quotation marks because there's nothing much to it, but it is present in the movie regardless. Obviously, however, this movie greatly benefits from a strong script and a committed cast to carry things out. Zoey Dutch and Glen Powell have great chemistry, they play off each other very nicely. Zoey Dutch, honestly, is kind of adorable, but she's also a good performer. She's quick on her feet, she's got very good comedic timing and, overall, she's just very good at what she does. Same thing with Glen Powell, minus the adorable part though. Though I can see how others might find him adorable. He seems like a very charming man. But, hey, I'm not here to talk about how I'm totally not man-crushing on Glen Powell. That's NOT what we're here to talk about. Not in the slightest. Like I mentioned, the movie is well-written. The dialogue is strong but, really, you can have the best dialogue this side of Tarantino, but that dialogue is nothing if you don't have a cast willing to put in the work. And, unless your reading comprehension skills are terrible, then you know that I've already given the cast more than their fair share of props. Though, of course, I haven't mentioned Taye Diggs and Lucy Liu. Both are very good in their roles, of course, but they're the complementary pieces to Harper and Charlie. They're there to drive the plot forward so, sometimes, it feels like they're not really even real characters, but I do believe the movie does a good job at disguising it. This is a minor issue since, again, I do think the movie gives them enough that's not related to what's happening in the 'main narrative' for them to feel like somewhat fleshed-out characters with motivations and needs. Tituss Burgess has a small role as Creepy Tim, a janitor who helps set up Rick and Kirsten's first meeting and it's definitely a comedic highlight. While I wish I would have seen more of Creepy Tim, I do think that his one scene ends up being more memorable because it's his only scene. Well, there's a mid-credits scene with him, but it's very short. I don't really know what else to say. I don't think I have much to say with these types of flicks. Unless they're really bad or really great, then I don't think I'd have much of value to add. I definitely enjoyed the movie. It's easy to sit through, with a fun cast and good script. It's not great, at least not by my standards, but if you want something that's light and frothy, then this would be a good choice. Not much else to say. Cynics are obviously gonna hate this, but cynics gonna cynic.
Jesse Ortega
Super Reviewer
½
Cute. A little patchy, but I felt like something light, and this suited my mood. I liked the two leads and it was nice to see Lucy Liu in a movie again. Not the greatest if most original thing I ever saw, but I enjoyed it.
Nicki Marie
Super Reviewer
½
Romantic comedies fall into the category of being extremely unpredictable because there are so many of them that look generic from their trailers. It's hard to tell if they're going to be great or downright dreadful. Not that I was looking forward to one of Netflix's most recent features in Set It Up, but the cast alone is what had me giving it a chance. This was a very strange viewing experience for me, due to the fact that I would barely call it a solid movie, but I loved watching it anyways. Set It Up is actually a movie that I would recommend to most people, but would also include an asterisk. Here's why I believe it deserves your time, but also why you shouldn't expect too much. Following Harper and Charlie, as they assist their needy bosses in everyday tasks throughout the office, these two form a plan to get their bosses to fall in love with each other in order to give themselves more free time, possibly finding a relationship of their very own in the process. The premise itself is very streamlined and nothing all that interesting comes of it, so it's hard to recommend a movie that you can call every shot to as it progresses, but quite honestly, this is a movie that benefits so heavily from its two leading performers that it warrants a recommendation from me in the end. Zoey Deutch has always impressed me, from her appearance in a lacklustre movie like Dirty Grandpa or a standout role in Everybody Wants Some!!, I have been rooting for this actress to become a star, and while this movie definitely won't get her noticed, her performance is beyond likable. On top of that, Glen Powell plays off her performance in superb a surprising ways and found myself grinning from ear to ear whenever they were on screen together. If for nothing else, I can confidently say that I'd be shocked if someone complained about their chemistry here. That being said, as I mentioned before, you kind of expect where the movie ends. The one major drawback of this film is the fact that you will be predicting each scene before it happens, due to the fact that the movie moves along in a very formulaic way. That being said, I was able to forgive this movie for being wholly unoriginal because it pretty much embraces the fact that everyone's going to guess where each character ends up. Set It Up is loaded with a slew of character moments that were quite memorable, at least for myself. Even their bosses, played by Taye Diggs and Lucy Liu, had their moments to shine. Their chemistry worked for me as well. Movies like this rely heavily on whether or not you like the characters, so for that reason alone, I found myself loving my experience with this movie, but the movie itself isn't something I would say I love upon reflection. Set It Up tries very hard to differentiate itself from many other films in its genre, but ultimately fails to impress, even though the characters are very well-rounded in my opinion. From the screenplay to the direction, everything about this film feels superbly average, so if you're looking to be blown away by a great romantic comedy, then I suggest looking elsewhere. If you can accept a generic plot and simply enjoy watching some great characters evolve for 105 minutes, then I think you'll get a kick out of this move like I did. Set It Up is a movie that'll probably be forgotten when this year comes to a close, but I think it deserves a little more than that.
Set It Up Quotes
There are no approved quotes yet for this movie.