Serpico
(1973)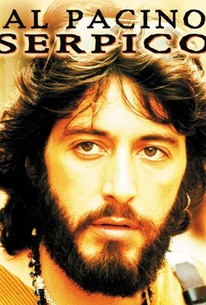 Movie Info
This is the real-life story of a New York cop who takes on corruption in the police department.
News & Interviews for Serpico
Critic Reviews for Serpico
Audience Reviews for Serpico
½
With their second collaboration in 1974, Al Pacino and Sidney Lumet delivered one of the very best films of the decade with "Dog Day Afternoon". It was a taut and captivating true-life story of a bank robber that gets way in over his head. Two years previously, though, they worked on another true-life story from the opposite side of the law. This time it was NYPD officer Frank Serpico and how he got way in over his head with police corruption rife all around him. 1960's New York: Frank Serpico is a cop who refuses to extort the local criminals and take pay-off's even though all his colleagues seem to be in on it. As a result, nobody trusts or wants to work him and Serpico begins to realise that his life is in danger by the very people who have sworn to protect and serve. Time and time again, he refuses to go on the take, hoping that an investigation will be launched into the conduct of his numerous partners but knows that it will take his own involvement or testimony to make a difference. After a frantic opening where Serpico is rushed to hospital bleeding from a gunshot wound to the face, Lumet slows events down and goes back to where it all began. We witness his recruitment to the police department and his ideological approach to the job. It's slow to start and spends a bit too much time on Sepico's home life when really all you want is for the police corruption angle to move along. That being said, when things do start to get going, the film improves as it progresses. Revered as one the finest films of the 70's and for it's time, that's completely understandable as police corruption drama's were not as commonplace as they are now. However, it now looks dated and time hasn't been all that kind to it. Arthur J. Ornitz's cinematography is observant enough to utilise the New York locations to excellent effect which lend the film a suitably grim and realistic tone but some scenes are far too dark to fully make out what's actually going on. For the most part, Lumet's handling of the material is strong and he's in no rush to relate this biopic. Although this is commendable, his pacing is slightly misjudged leaving you with feelings of lethargy and an overlong running time. Added to which - with the obvious exception of Serpico - there really isn't any other character that gets attention in Waldo Salt and Norman Wexler's screenplay. The support are all two-dimensional and some of the acting on show is very questionable, indeed. It even wastes the talents of great character actors like M. Emmett Walsh and F. Murray Abraham in thankless bit-parts. The most glaring flaw, however, is Greek composer Mikis Theodakaris' ridiculously overused and misplaced music score. It's feels random, tonally different and bears heavily on particular scenes that it brings nothing of value to. It even plays over the dialogue which can be difficult to hear and results in the film feeling cheap. Now, this sounds like a lot of flaws for a film that's held in such high regard but they do happen to be there and wouldn't be looked upon kindly by a contemporary audience. That aside, though, there is still much to recommend the film. It builds tension with ease and has numerous standalone scenes that are of a very high quality and the denouement is, simply, a work of genius. Ultimately, it's a vehicle for Pacino and, unsurprisingly, he delivers an explosive central performance. It's one of his most iconic and his commitment to the role actually raises the film beyond a particular standard. "The Godfather" may have been the film that made his name but it's his performance here that cemented it. He not only echoes the reservation of Michael Corleone but also displays moments of frustration and rage that allow him to grandstand in the way that only Al knows how. Much like the refusal of Frank Serpico to go on the take, I refuse to fall into line with the particular posse of critics who see no fault in this film. I honestly thought I'd be handing out top marks for a film I was very fond of in the past but I wouldn't be being honest if I did. That's not to say that it doesn't have quality in there too, though. Age may not have been kind but you can't put a time on a top class performance. Mark Walker
Mark Walker
Super Reviewer
½
The original cop drama, "Serpico" opened a lot of doors for filmmakers, and told the true story of a cop on the fringes of a corrupt department in New York City. Pacino plays a heavily exposed and alternative plainclothes police officer just trying to expel corruption in his department and finally become a detective. The character is chronically annoyed with the problems he faces and in this way is portrayed as an irritable man who can't cope with the problems around him, notably fighting with his female partners, with those in the department, and the higher ups who don't want to delve into their own problems for fear of exposure and punishment. Serpico is an atypical figure, the lone good guy in a department of supposed good guys. The film paints police officers as men and women who are stuck in a system that has them either gravitate towards corruption, or else squelches anything remotely akin to whistle blowing. There's such a rampage of corruption that Serpico isn't able to report the abuses without compromising himself, and his life is left in peril because of it. This character was not seen before in cinema, because of the complexities of the plot. Sidney Lumet is a revolutionary and hard headed director who takes on controversial topics within the zeitgeist of the seventies, and presents gritty, real truths to his audiences. Along with Pacino's superb acting this film soars with credibility and chutzpah, making for an intriguing watch.
Spencer S.
Super Reviewer
½
Sidney Lumet's compelling David vs. Goliath story, concerning a scrupulous cop pitted against overwhelming corruption within the New York police force, is one rendered more disquieting by the fact that it's all based on a true account. A needle to the balloon of idealism, disenchanting (as if any sound-minded adult would ever think otherwise) the utopian image of a law enforcement exclusively serving society's best interests. Already in the opening, Lumet subtly establishes an emotional bridge between ourselves and the title character, emphasizing the life-threatening reality of being a man of steadfast principle in a world where bribery, misconduct and abuse of criminal suspects leans to rule, rather than exception. Pure of virtue and compassionate in character, Al Pacino is fantastic as our protagonist Frank Serpico. A little more grounded and downplayed compared to his more villainous, anti-hero-esque roles, but it's an aspect of his thespian register that I singularly enjoyed. And evidently, so did the 1974 Academy Award jury, as he was nominated for an Oscar for his extraordinary turn. Penned and adapted to screen from a novel by Peter Maas, there's a wonderful dichotomy to how Serpico as a character is portrayed. A harmonized Yin and Yang, so to say, between the dead-serious business of his job and the more laid-back lifestyle outside it. The contrast couldn't be starker. Amusing also, while the narrative progresses, how his physical appearance transforms from tidy and clean-shaven to something that resembles a cross-breed between hippie-era John Lennon and a pirate from a 1930's matinee film. By no means is it your typical cop drama and I love how it seamlessly shifts between its two opposing poles: one being its property as a quasi-cathartic character study and the other as a straightforward crime thriller that wears its intensions on its sleeve. More than that, it ties all its components together in one unitary, holistic message, which channeled through Pacino's bravura performance, becomes an arresting exposé, empowered by a relatable passion for truth and justice. Meticulously directed, Lumet along with cinematographer Arthur J. Ornitz, are as adroit in capturing the sentiments in Serpico's eyes as they are in the larger shots that pierce deep into the city horizon. Up-close or sweeping; there's no such thing as a cop-out in their mastery of all perspectives. Above all else though, it's the inspiring tale of a morally fibrous man and his struggle to cure a system of its ills, one wayward soul at the time. Parallels to some of Lumet's other films, like the quintessential 12 Angry Men, are easy to draw - in how one person, if determined enough, can make a difference on a larger scale. There's a power and miraculous beauty in this that Lumet has maximized throughout his filmography; exalting his stories to not merely legendary edge-of-your-seat stuff, but as relevant social commentaries and a showcase in what it means to have true and unswayable integrity. http://www.facebook.com/pages/Mikes-Movie-Reviews/281824101875153?ref=hl
Serpico Quotes
There are no approved quotes yet for this movie.