Senna
(2011)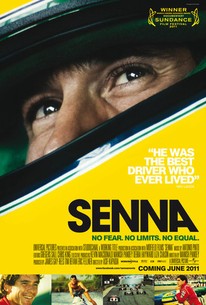 Movie Info
Spanning his years as a Formula One racing driver from 1984 to his untimely death a decade later, Senna explores the life and work of the triple world champion, his physical and spiritual achievements on the track, his quest for perfection and the mythical status he has since attained. -- (C) Official Site
News & Interviews for Senna
Audience Reviews for Senna
½
An enthralling and heartbreaking documentary using only archive material and old interviews with the pilot and those who knew him, and it is fascinating to see the human side of an admirable man who was the greatest idol of a nation facing a major economical and political crisis back then.
Carlos Magalhães
Super Reviewer
½
An arresting, incredibly well constructed documentary on the life of Ayrton Senna, a Formula One race car driver during the 80's and early 90's whose dominance of the sport is largely unknown by the common sports fan. Senna is such a lovable person and you can see why his home country of Brazil rallied around him and treated him like a god, because of his humble nature and intense spiritual belief in God that made him such a riveting public figure. If you know his story already, you know it has a tragic ending attached to it, and the way this is handled is extremely moving and heartbreaking. Quite simply, this is not just a fantastic documentary, but also one of the greatest sports movies ever made.
Dan Schultz
Super Reviewer
This film, about Formula One racing, is probably one of the best put together and archived documentary films ever. It speaks about the complete life story of Ayrton Senna, who was a competitive underdog, being from South America and winning his races on skill instead of relying on money like many of his competitors. Besides simply being about the legendary driver it is also about the pride he brought to his home country, about the spectacle of winning, and his own happiness and self-satisfaction when he won. The entire film is taken from archival footage, and though there are some interviews with his family, friends, and other racers, they are never shown onscreen. Everything we actually see is from either home movies or the race track. Senna was a very passionate and interesting man as well as a significantly good race car driver, and without a doubt the footage captures all of that and more. There's also no real commentary from a narrator, which is seriously refreshing. Everything that you can truly take away from the film comes inherently from your own sense of what truly happened. This is very true when it comes to Senna's rivalry with fellow driver Alain Prost. Prost was from a much richer driving team and both men were obvious enemies, whether it came from ratting on one another to keep each other off the track, or simply using mind games in order to win for themselves. Senna comes off with a lot of honor, and seemed to seriously care for the well-being and safety of all the other drivers, while Prost only seemed to care about winning. That may not be true about Prost, but it is true that Senna asked for safety conditions that weren't met and that ended negatively, to his detriment. That last part of the documentary, when Senna was willing to do anything to win and yet he was going against the adversaries of the commission, that showed the true nature of his character, and how great an athlete he really was.
Spencer S.
Super Reviewer
Senna Quotes
There are no approved quotes yet for this movie.