Secret Things
(2003)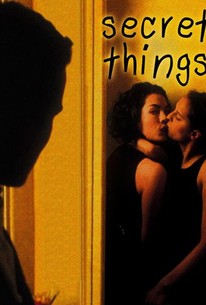 Movie Info
Two young women try to climb the corporate ladder using their feminine wiles in this erotic melodrama from French director Jean-Claude Brisseau. At the beginning of the film, Nathalie (Coralie Revel) and Sandrine (Sabrina Seyvecou) work in a strip club, where Nathalie wows the customers with her dancing while Sandrine tends bar. After a fight with their boss, both of them are tossed out late one night. Sandrine, a newcomer to Paris, is late paying her rent and can't go back to her apartment, so Nathalie invites her to move in with her. They become lovers, and after occupying themselves for awhile by behaving very naughtily in public, decide to conquer the working world with their powers of seduction. They both find jobs at a seemingly normal company and choose as their target a mild-mannered middle-aged bureaucrat named Delacroix (Roger Mirmont). But the company has some kinky secrets of its own, personified by the owner's son Christophe (Fabrice Deville), a decadent nihilist with a very close relationship with his sister, in whom the women might have met their match.
Critic Reviews for Secret Things
Audience Reviews for Secret Things
Two women, both recently fired from a strip club, make a pact to use their sexuality to secure better jobs and to advance themselves in the corporate world. Not a bad film but not nearly as good as it pretends to be.
Randy Tippy
Super Reviewer
Totally sexy,for all the right moves,Brisseau is not afraid,French vie sexuelle at its greatest velocity.I felt caressed by the 2 girls' erotic pilgrimage,an asexual I dare say insight.Frames,zooms as cold as they can be keeping us distant and yet surprisingly touched by their "accomplishment".That of sadistic empowerment.
Dimitris Springer
Super Reviewer
Steamy, highly charged, sexual thriller. Call it In the Company of Women. Two women use their considerable charms (very much on display) to climb the corporate ladder and wind up succeeding beyond their dreams. Almost Felliniesque in its imagery, a cautionary tale of sexual power and how love is not something that is subject to rational thought. I have to say this proved more than I expected. The story kept this viewer enthralled, even as I pitied the desperate measures that Nathalie (Coralie Revel) stooped to. For all her conniving, she still came off as an empathetic character. And Sandrine (Sabrina Seyvecou), for all her initial naivete proved the stronger of the two. Lots of eye candy for everyone!
Mark Abell
Super Reviewer
Secret Things Quotes
There are no approved quotes yet for this movie.