The Secret of NIMH
(1982)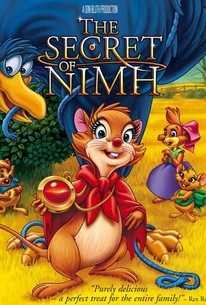 TOMATOMETER
AUDIENCE SCORE
Critic Consensus: The Secret of NIMH is a dark, well-told tale that respects its young audience enough to not tone down its subject matter.
The Secret of NIMH Photos
Movie Info
Frustrated with the Walt Disney studio's reluctance to produce full-length animated films, Don Bluth and a number of animators left the studio in the early '80s with the intent of creating movies in the style of Disney's classics. The Secret of NIMH is the first film Bluth produced after leaving the studio. Adapted from Robert C. O'Brien's acclaimed children's book Mrs. Frisby and the Rats of N.I.M.H., the film is about a widowed mouse whose home is threatened; also, one of her children is gravely ill. On her way to find help, she discovers NIMH, a secret society of highly-intelligent rats who have escaped from a nearby science lab. The rats help the widow to protect her family and home. ~ Stephen Thomas Erlewine, Rovi
News & Interviews for The Secret of NIMH
Critic Reviews for The Secret of NIMH
Audience Reviews for The Secret of NIMH
½
though many consider this Don Bluths best film, I still don't think he is the best animation director. The animation is okay, but its not that impressive, not as much "Anastasia." The acting is okay but not fantastic, but the music is very good, and some of it is very good when it comes to its drama, but it doesn't leave you completely satisfied like some other serious animated films do like "Persepolis" but overall it is a decent film, but its not the best film or the best animated film I've seen.
Michael Edwards
Super Reviewer
The Secret of NIMH features gorgeous, detailed animation and a delightfully dark nature. It is well constructed, occasionally thrilling, visually dazzling---and also mysterious and haunting (rare for an animated film). What really makes the film a triumph is its ability to perfectly convey O'Brien's masterful work--especially via the expressive characters--and fully capture our attention and wonder as we willingly follow Ms. Brisby along her exciting adventure. Where it falls short is in its slow beginning, abrupt ending, and some moments that drag. However, these flaws--while keeping it from being a perfect masterpiece--are then undone by the beauty that makes up most of the film.
Matthew Samuel Mirliani
Super Reviewer
Don Bluths directorial debut and his best film. The animation is amazing, especially when considering it was done by twelve animators. The story is just as amazing as the audience follows Mrs. Brisbys journey to save her son. Their are many scary and intense scenes in this movie, but Mrs. Brisbys courage and optimism keeps the tone of the film in balance. Probably the only time Don Bluth succeeded in maintaining that balance. An emotionally powerful film that kids and adults can enjoy.
Christopher Heim
Super Reviewer
The Secret of NIMH Quotes
There are no approved quotes yet for this movie.