Searching
(2018)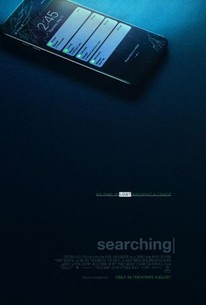 TOMATOMETER
AUDIENCE SCORE
Critic Consensus: Searching's timely premise and original execution are further bolstered by well-rounded characters brought to life by a talented cast.
Movie Info
After David Kim (John Cho)'s 16-year-old daughter goes missing, a local investigation is opened and a detective is assigned to the case. But 37 hours later and without a single lead, David decides to search the one place no one has looked yet, where all secrets are kept today: his daughter's laptop. In a hyper-modern thriller told via the technology devices we use every day to communicate, David must trace his daughter's digital footprints before she disappears forever.
News & Interviews for Searching
Critic Reviews for Searching
Audience Reviews for Searching
The clever plot gives great attention to details with a mystery that is always compelling, and the computer/phone/TV screen format, while not new or original, is consistent with the cynical way the film sees our digital era, even if the ending goes a bit over the top.
Carlos Magalhães
Super Reviewer
Searching is a clever, crafty found footage mystery told from the point of view of a computer screen. Unlike many found footage entries, writer/director Aneesh Chaganty has put considerable thought into the mechanics of his storytelling gimmick. The opening sequence even reminded me of Up as far as how deft it was with the economy of storytelling while providing an affecting emotional blow. In the opening, we watch a little girl grow up as computer technology and websites also advance documenting her life, culminating in her mother getting cancer and passing away, communicated via a "Mom's Coming Home" date removed from a calendar. It was so well done I actually felt like I just might summon some tears for the passing of this woman. Right away I realized I was in for something special. Flash forward and the teen daughter goes missing and her stressed-out father (John Cho) dives into the investigation firsthand by looking through her online history and realizing how little he may have known his not-so-little girl. The movie illustrates nicely how easy it is to hide your real self online and how easy it is for others to find you and your digital impressions. Every time Cho is visiting a website, whether it's Venmo or Instagram or Facebook or a webcam, there's a solid reason for it and the movie has a satisfying step-by-step progression. The mystery has plenty of unexpected twists and turns and it's anchored by a harried and distraught Cho (Star Trek Beyond), who does not look like he's in his mid 40s at all (Kal Penn has also aged well, which makes me only want a cross-generational Harold and Kumar sequel more). The only knock on Searching is that there really isn't a pressing need to see it on the big screen. After all, you're watching a computer screen and typing for much of the movie. It will play just as well, if not better, on your home television or whatever smaller screen is at your discretion. Nate's Grade: B+
Nate Zoebl
Super Reviewer
½
This is one of the best movies I have seen in a while. The directing is great, John Cho puts on the best performance of his career, but the story steals the show. Packed with suspense, surprises, heart and constant intrigue throughout, the script sets this movie apart from the rest. It's so engrossing that you forget the entire film is presented on phone and laptop screens, a unique feature that Chaganty pulls of successfully.
Sanjay Rema
Super Reviewer
Searching Quotes
There are no approved quotes yet for this movie.