Scream and Scream Again (Screamer)
(1970)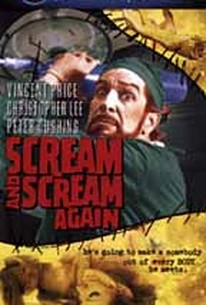 Movie Info
Strange and terrible things are afoot and the police are helpless to stop them in this taut, complicated thriller. First a heart attack victim goes to the hospital and awakens to find limbs missing, and later, the body of a rape victim is found with two strange puncture wounds upon her wrist. Meanwhile in Europe, a military officer is murdered by someone with inordinate strength. After another girl is murdered, Inspector Bellaver gets on the case. The trail of clues has many twists and turns and before he is led to the mysterious estate of Dr. Browning, another dies. There he discovers that the insane scientist has engineered a master race of emotionless, mindless beings as part of an international conspiracy. Now Bellaver and his cohorts must somehow stop the doctor and his friends from taking over the world. This marks one of only two features to include all three great horror actors Christopher Lee (as the head of British Intelligence), Peter Cushing (the leader of a fascist government) and Vincent Price (mad Dr. Browning) in the cast. (The second was 1983's House of Long Shadows). Interestingly, except for one brief moment at the end with Lee and Price, the actors never appear in the same scene together here. ~ Sandra Brennan, Rovi
Critic Reviews for Scream and Scream Again (Screamer)
Audience Reviews for Scream and Scream Again (Screamer)
A movie with Christopher Lee, Peter Cushing, and Vincent Price! I was so excited to see this movie, but was really disappointed by the story. The beginning is horrible, the middle is okay but sort of boring, and the end is cool but confusing. Overall not a good movie at all, but it's got a great cast who try their best.
½
Think about it...Vincent Price...Christopher Lee...Peter Cushing...how can you go wrong? Sadly not even watching those three (all favorites of mine) hamming it up was enough to make this mish-mash of a film enjoyable. Not that I was expecting GREAT things storywise, but I kept waiting for it all to "come together" in some sort of way. But it never really does. While I wouldn't recommend this film to any but the loyalist fans of the three gentlemen mentioned above...I can highly recommend the chessy, groovy, jazzy soundtrack - it was wonderful!
½
Absolute garbage...to a degree. This movie is a lot smarter than it seems. It's full of over-the-top dated 60's music and a barely coherent plot, but it's full of enough charm and star power to make it a classic.
Tim Salmons
Super Reviewer
Scream and Scream Again (Screamer) Quotes
There are no approved quotes yet for this movie.