Scream 4
(2011)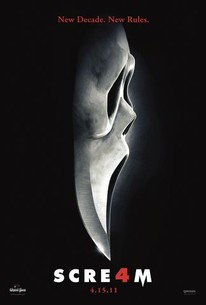 TOMATOMETER
AUDIENCE SCORE
Critic Consensus: The franchise is showing its age, but Scream 4 is undeniably an improvement over its predecessor, with just enough meta humor and clever kills.
Movie Info
In Scream 4, Sidney Prescott, now the author of a self-help book, returns home to Woodsboro on the last stop of her book tour. There she reconnects with Sheriff Dewey and Gale, who are now married, as well as her cousin Jill (played by Emma Roberts) and her Aunt Kate (Mary McDonnell). Unfortunately Sidney's appearance also brings about the return of Ghostface, putting Sidney, Gale, and Dewey, along with Jill, her friends, and the whole town of Woodsboro in danger. -- (C) Dimension
News & Interviews for Scream 4
Critic Reviews for Scream 4
Audience Reviews for Scream 4
The late addition to the 90s trilogy that successfully mocked and celebrated the slasher genre at the same time does quite a few things right. There are enough new characters around who appear suspicious, the guessing game is fun. It also adds new layers due to the changed rules of social media in 2011, although that part already feels slightly dated six years later. Other aspects of the film are oddly familiar and repetitive, adding little more to the trilogy that we haven't already seen. The film is pretty entertaining and the ending somewhat different at least.
½
There was a great opportunity for the meta element here, considering the changes in horror movies along the past ten years, but this useless reboot is never original and basically redoes the same slasher of fifteen years ago. Besides, the only actor who is actually good is Hayden Panettiere.
Carlos Magalhães
Super Reviewer
A lot has changed since the original 1996 "Scream," and this fourth installment in the franchise is apt to point every one of those changes out time and again. Original director Wes Craven and original screenwriter Kevin Williamson come back for more, and do so with the willingness of an entirely new cast and the old one, an unprecedented feat seeing as how the last film was made eleven years prior. The original film celebrated the diverse inclinations of the horror genre, while also poking fun at it thanks to veteran director Craven helming the vehicle. What was great about the original was that it knew what it was (Meta) and nearly broke the fourth wall time and again by addressing itself over and over. More than its cheekiness though was that "Scream" simply was an amazing horror movie: it utilized new technologies for ingenious kills, had two manic and yet unsuspecting killers, and had thoughtfully written and entertaining characters. This sequel does willingly give itself make to Meta, and with gusto, bringing in an entirely new cast to replace the archetypes of the original and jumpstarting the original's breadth of knowledge on horror films. The horror film obsessed generation that we're introduced to in this version though are not enjoyably familiar, only agitating and crass. The original cast, in conjunction, only mirrors some of their more prominent characteristics, including Gale's tenacity, Dewey's slovenly ineptitude, and Sidney's propensity for being a victim. The film does not reboot itself, does not do much that's new in the way of kills, and doesn't distract from two killers, only makes us wait until they're eventually unmasked. I will say that the ending, with its distractions and climactic turns, was unprecedented and did something many reboots are too cowardly to do. That's what's great about the "Scream" franchise, and after the bitter taste of the third, this is a great retelling of an age old story. Though I don't think it's an unnecessary sequel, I do agree with a quote from the last moments of the film: "You forgot the first rule of remakes. Don't fuck with the original!"
Spencer S.
Super Reviewer
Scream 4 Quotes
There are no approved quotes yet for this movie.