Scavenger Hunt
(1979)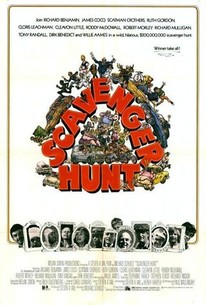 AUDIENCE SCORE
Critic Consensus: No consensus yet.
Movie Info
When millionaire Vincent Price dies, he leaves a riotous will which amounts to a scavenger hunt, the winner of which receives the entire willed fortune. So 15 potential heirs are sent on a zany quest where they must outrace and outsmart one another to inherit the big bucks.
Critic Reviews for Scavenger Hunt
Audience Reviews for Scavenger Hunt
This is one of my favorite pre-80s films. 5 groups of people set out on a scavenger hunt to win $200 million dollars. Now that's entertainment.
The story for this film is absolutely entertaining. The scavenger hunt is only a few hours so the pace of this film moves rather quickly. Not only that, but there are more than enough characters to follow so the film never gets boring, although it is a little difficult to remember everybody's names. You can't help but laugh at some of the items that these groups of people have to get, without purchasing them. That is the rule. You have some usual everyday stuff, but there are other unique items which this film focuses on. A toilet, a suit of armor, a wedding dress, a beehive, and a live OSTRICH, just to name a few. Did I mention that there are bonus points awarded to the team that gets the heaviest person? Well there is that as well. Not only are the items laughable, but so are the ridiculous events that take place while getting them. It is hard to see anybody getting bored with this flick.
The acting for the most part is great. There are a few performers that get irritating after a while, but the others are enjoyable. Richard Benjamin and Cleavon Little put on great performances. It was also funny to see cameos from Meat Loaf, Vincent Price, and Arnold Schwarzenegger.
You probably won't see this film around too often, so if you get the chance to see it, I would highly recommend it. There is nothing like teamwork.
A wacky fun comedy. I remember one of my family members recording over one of my valuable video tapes with this damned movie.
Lafe Fredbjornson
Super Reviewer
Scavenger Hunt Quotes
There are no approved quotes yet for this movie.