Scary Movie
(2000)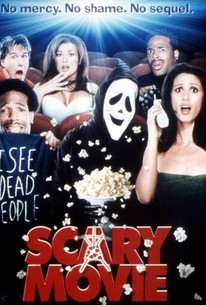 Movie Info
From the minds that brought you "I'm Gonna Git You Sucka," "In Living Color" and "Don't Be A Menace In South Central While Drinking Your Juice In The Hood" comes a thriller-comedy (a thrill-comedy, if you will) that is guaranteed to shock. In this raucous comedy spoof of recent horror films, not even "The Blair Witch Project" or "The Sixth Sense" has been spared.
News & Interviews for Scary Movie
Critic Reviews for Scary Movie
Audience Reviews for Scary Movie
½
Scream was already a smart parody that made fun of horror movie conventions and clichés, so this silly (yet sometimes funny) spoof feels pretty pointless and shoots in every direction to see if it hits (even The Matrix gets thrown in the mix), but it has more misses than hits.
Carlos Magalhães
Super Reviewer
This afternoon, I finally watched this movie through from beginning to end. You know what...I did not laugh once. This movie is just ridiculous. How in the world can such a stupid movie, make so much money at the box office? Are we all without minds in this world? This movie is a complete ripoff of Scream (which it parodies), and all other of the newer 90's style horror movies. Hollywood must really be hurting for ideas if a movie this terrible could actually be made. If you want to laugh, watch one of Mel Brooks' parodies, or the Monty Python films, or even The Pink Panther movies. These are true comedies. This is just a sick and twisted, incoherent movie with absolutely nothing funny in it. Now excuse me while I go and dust off my copy of Beverly Hills Cop, and watch a real entertaining, funny movie. 1/2 star 1-17-01 (Updated)
Bruce Bruce
Super Reviewer
½
An obscene parody of horror films that executes with laughter and dark humor. The Wayans Bros. team up to bring their parody-filled skills to the world of horror and suspenseful cinema. And may I say it's so hysterical, that it's scary! 4.5/5
Eugene Bernabe
Super Reviewer
Scary Movie Quotes
There are no approved quotes yet for this movie.