Sausage Party
(2016)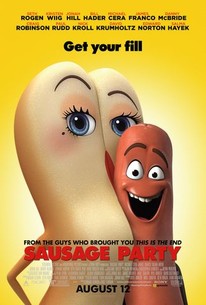 TOMATOMETER
AUDIENCE SCORE
Critic Consensus: Sausage Party is definitely offensive, but backs up its enthusiastic profanity with an impressively high laugh-to-gag ratio -- and a surprisingly thought-provoking storyline.
Movie Info
A misplaced sausage and his savory friends embark on an existential adventure through the aisles of a massive supermarket in this raunchy animated comedy from Seth Rogen and Evan Goldberg. As the store's annual 4th of July sale draws near, the perishable pals must return to their rightful places on the shelves before the customers come flooding in to fill their carts. Conrad Vernon (Monsters vs. Aliens) takes the helm for this Sony Pictures/AnnaPurna Pictures co-production penned by Rogen, Goldberg, Kyle Hunter, and Ariel Shaffirwhich. ~ Jason Buchanan, Rovi
News & Interviews for Sausage Party
Critic Reviews for Sausage Party
Audience Reviews for Sausage Party
½
There is value to be found in taking a comedy seriously. I do not mean that the best comedy is one that will not produce laughter, but rather that a great comedy will often be able to make you think or deeply emote, feeding your head and your heart even as it makes your sides ache. Not every comedy has to be as substantial as Stanley Kubrick's outings in the genre, but a comedy which does the hard work is always a welcome addition - particularly during awards season, in which comedies are so often overlooked in favour of more overtly serious but often inferior films. By these standards, or indeed any standards, Sausage Party is a great comedy. Like National Lampoon's Animal House before it, it takes a subject matter which has potentially interesting political or philosophical connotations, and proceeds to explore it in some of the most delightfully tasteless ways imaginable for a contemporary audience - and all the while you find your sides splitting like one of its bananas. If nothing else, it's further evidence that lowbrow productions can often be as successful as ultra-highbrow outings in making us both think and laugh. Sausage Party is a high-concept film, insofar as it is built around one central idea, but it is not entirely high-concept in its execution. Seth Rogen worked for eight years to make the film, being turned down by numerous studios and first teasing the project in 2010, three years before it was green-lit. Not only that, but this film cost $19m, much lower than the kind of budget which mainstream animation efforts often enjoy. This is wearing the skin of a mainstream film, but underneath it is a labour of love. Even if we don't like the finished product, the fact that a film this spirited and personal was made at all under the present system is something which should be applauded. The film has an interesting central conceit - namely what it would be like if our food had feelings, and how it would react to being eaten. The idea sounds simple - it's the sort of thing that a child could imagine, given the right stimulation - but it is also one of surprising depth. The film's philosophical underpinning is animism, the idea of animals, plants and even inanimate objects having souls - a belief which, some anthropologists claim, is one of the oldest in human civilisation and the underpinning of many early religions. As we shall see, Sausage Party is interested in religion quite a bit - albeit not from the most academic of perspectives. Equally, we can view Sausage Party's conceit as a parody of the Disney-PIXAR approach to character animation. John Lasseter once said that he tried to characterise inanimate or disposable objects in terms of their relationship to their purpose; in his example, a bottle of water would be very happy when full, would get mad at people the more they drank from it, and would cease to feel meaning toward its life once it was empty. This film shares Lasseter's idea of purpose being something external (something given to creatures, rather than something that they invent for themselves), but those giving said purpose are far less benevolent. The film has an interest in the way that religions operate, both in terms of their relationship to other religions and the relationship between gods and their followers. Obviously you're not going to find the deepest examination of religion or theology in here - any film which literally climaxes in a mass orgy hasn't got the deepest of convictions. But it is interesting to find a mainstream comedy (and a stoner comedy at that) wanting to tackle this issue, instead of merely spouting platitudes about it through a haze of illegal chemicals. Ultimately, Sausage Party lines up with the increasingly secular mainstream on this matter, opining (in my view mistakenly) that religion is a misinterpretation of the natural world caused by a lack of knowledge and an unwillingness to question what has traditionally been regarded as true. The belief system it depicts is rooted in the non-moral religion of many pagan cultures, including elements of Ancient Greece, where the gods were capricious, inconsistent, limited in their powers and regularly indifferent to the plight of mortals. To paraphrase C. S. Lewis in The Problem of Pain, this religion has not yet progressed to the point where the source of numinous awe (the sense of dread and reverence we feel towards supernatural beings) has been identified as the giver of the moral law, which we feel compelled to behave and yet fail to uphold. Given the film's set-up and the philosophical problems which animism poses (e.g. how can we justify eating anything if everything on Earth has a soul?), it is hard to see how Rogen and the directors could have arrived at any other conclusion. From a purely intellectual standpoint it's disappointing that they didn't go further, confining themselves to jokes about the results of entrenched religion in culture (the Jewish bagel fighting with the Arab lavash) rather than exploring whether the supernatural could genuinely exist in any form. But if watching this film starts thos conversation for a few more people, rather than simply reaffirming their views, then that should be recognised in some way, however small. Even if you're not interested in Sausage Party's views on religion, there is still a lot to enjoy in the film. The film wears its bad taste like a badge of honour from the outset - if the overtly vaginal design of Kristen Wiig's hot dog bun makes you feel uncomfortable, then there is really no point sticking around for the jokes about Nazi food seeking to "kill the juice", or the parody of war films with spaghetti guts and jam standing in for blood. Some of the character decisions are more subtle than others - the villain being literally a giant douche isn't the biggest creative stretch - but the designs are distinctive, the voice cast are consistently funny and the animation is appealing despite having a deliberately plastic quality. The one flaw with Sausage Party is ultimately that it doesn't quite go far enough, either in its subject matter or its jokes. That's not to say you won't find at least one moment which generates an awkward silence rather than a loud chuckle, but it's ultimately a little too conventional in its protagonists having worked so hard to challenge a lot of the other conventions in the genre. Even when it comes to its darkness and political incorrectness, the film feels the need to keep the characters endearing and appealing, playing to the Disney-PIXAR dynamic of good triumphing over evil even as it subverts much of their styles. It's not up there with the likes of Heathers, Dr. Strangelove or the best of the Ealing comedies, which had the confidence to turn acidic observations about the world onto its main players, making us perversely sympathise with really horrible people. Sausage Party is trying to have its cake and eat it, and its ending is a double cop-out: not only has that kind of fourth wall joke been done to death, but it teases about there being a supernatural side after hammering about the lack of one for the running time. Sausage Party is a hilarious comedy which asks some surprisingly intelligent questions. Even if its answers and execution don't always fire, it pulls off the rare gambit of appealing to a mainstream audience without losing any of its spiky, creative nature, and above all it's consistently funny from its opening to closing gags. If nothing else, it's proof that there is more to Seth Rogen and his counterparts than often meets the eye.
Daniel Mumby
Super Reviewer
A deliciously offensive animation for adults that mocks with surprising intelligence the stupidity of prudishness and unfounded beliefs - and it looks great for a movie that is so inexpensive and benefits from some superb voicing (like Edward Norton imitating Woody Allen).
Carlos Magalhães
Super Reviewer
½
I read some time ago that it took Seth Rogen a long long time to get any studio interested in making this crude feature. Is that surprising? no not really, considering that adult rated movies have only just come back into fashion thanks to a few other successful flicks (God bless that red and black jumpsuited superhero). Yet this naughty idea is so perfect its amazing it took this long for a studio to green light such a move. Of course the idea of a mocking/spoof/parody of the kids animated genre isn't new, we did get that with the [i]Shrek[/i] franchise, albeit for the family. But the idea of a full on adult animation which openly takes the piss out of the current Pixar/Disney/Dreamworks crop of features is nothing short of sheer genius frankly. I mean come on, who wouldn't wanna see an R rated movie along the same lines as 'Toy Story' or whatever. So the story is set within the present day I believe, but in this universe all food and drink are sentient beings. It seems that all food, drink, food related products, cleaning products...basically everything you would find in your supermarket, is alive and can communicate with each other (humans don't see this, all they see are inanimate, lifeless objects). They all live in the supermarket, within their isles which each form small communities of sorts, and cohabit in a universally happy way. They live their lives according to a simple religion or belief, that humans are Gods that will choose them and take them away to a promised land, the great beyond. Of course little do they know that they are in fact being taken away to their doom, to be eaten or used. One thing leads to another resulting in a small band of foods fighting for their lives as they try to discover the true behind the so called human Gods and the great beyond. Are their beliefs true or a complete crock of shit? Visually this movie isn't really anything to shout home about, in fact its pretty basic looking when compared to various other major animated flicks. Yes it looks nice but it kinda reminded more of a straight to DVD type movie if anything. Some of the characters look down right childish like the main protagonist Frank, who is a sausage (or frankfurter?), Sammy the bagel, Teresa the taco etc...These characters (well all of them) are literally food (or whatever) with a set of eyes and a mouth on them, its extremely basic. Not that you could do much more design wise to be honest. Yet some of the characters were pretty good and looked like they had more time spend on their creation. Firewater the old bottle of liquor, Kareem the lavash and the excellent Gum and his little electric wheelchair, clearly based on Stephen Hawking. I think the worst looking character that just didn't work (for me) was the second main protagonist of Brenda the hot dog bun. I can see how it might have been tricky to give a hot dog bun a face but...man did this character look stupid...and creepy. But hey who are we kidding here, this movie was never about the visuals, that was never the films main purpose. The movie was always gonna be all about the adult humour, how risqué it could be, how far it could push the boundaries of good taste and general political triggering, you know all the good stuff. On that front the movie is a complete success. Comparisons with [i]South Park[/i] are gonna be inevitable here, and I don't blame anyone for saying so. It is indeed highly amusing to see and hear little CGI animated characters that look like something outta of a kids flick, using brutal profanity left, right and centre. But not just the usual words, oh no, we're talking an entire spectrum of naughty words and filthy innuendos. Heck at some points its not even innuendo, they just say it and mean it! [i]'look how tight I am'[/i] [i]'I've never been opened up before'[/i] [i]'put your meat in my bun'[/i] [i]'I'm filling you!'[/i] Added to that is the devastatingly accurate contemporary political satire which springs up throughout the movie. For example the use of Jewish food products and Middle Eastern (Muslim) food products all stuck together on one shelf, in one aisle, and arguing over the space allocated to them is both predictable and genius. Yes of course the food characters are all cliched stereotypes and their problems are directly taken from present day issues which is all kinda easy comedy to be sure, but it just works in this presentation. Seeing these cartoonish little characters argue over such issues relating to our current political climate is funny and also highlights how idiotic these issues really are. Its a double whammy of comedy whilst bringing delicate problems to the forefront and shining a light on them. Its like, hey look at this! look how inane this really is. Nothing is really safe in this movie with everything attacked and dragged through the mud. You have a box of grits that is clearly supposed to be a black male who is angry at the crackers for taking his shelf space. Various jokes about specific religious groups such as a poke at the Jewish community and Twitter at the start. Firewater the liquor is based on a Native American so there are various digs at immigration along with racism. The entire plot is virtually a play on Christianity, God and the Bible, which is played out in a small hand drawn animated sequence which explains how foods see humans, the foods beliefs and how they had been tricked for so long. A devilishly simple yet witty attack I might add, brilliantly executed. The start of the movie sees a fantastic parody of the Normandy invasion in 'Saving Private Ryan' with the various food products getting killed in horrific ways when they all spill from a shopping cart. Obviously I'm not saying the Normandy invasion is anything to be amused by, but the parody here was very clever. And lastly of course all the characters you see, as mentioned, are outrageous racist stereotypes, unashamedly so. Even when you think things couldn't possibly get any more offensive, whammo! the finale slaps you across the face with an all out sexual orgy. Now you might be thinking how cartoon food products having sex could possibly be dirty or X-rated, well its possible. Don't get me wrong its nothing that's gonna blow your mind if you're an adult, but watching a piece of fruit suck off a turnip, or seeing a banana getting wanked off is...pretty bizarre frankly. It doesn't so much look X-rated, its the simple suggestion that's X-rated, and funny. But why is it even in here? It doesn't really add or bare any relevance to the plot. Well just because they can I guess, because they were able to get away with it, so there. But overall is this an actual good movie or simply a case of morbid curiosity in seeing animated filth and profanity. To be honest I'd say the latter and that's because unlike [i]South Park[/i] the characters aren't really engaging and the film lacks depth and scope. I didn't really like or care about the characters, they were just there to tell the story and get killed horribly. As for the story, well its obviously really stupid, sure the cutesy parodies are well done and all but lets be honest here, its idiotic. But overall this was indeed a simple case of watching a movie just to see what all the fuss was about, to see cartoon pieces of fruit n veg swearing and fucking each other. To see racism and sexism played out in your face, with silly characters, and having an excuse to laugh at it. In this current political climate I think this movie does wonders by allowing people to simply (hopefully) let off some steam, sit back, relax and just laugh at this nonsense. So yes its a relatively clever flick which offers up fun chunks of controversy which you can enjoy, but its nothing more than that really. Beyond the headline grabbing controversy its a bit of a one-trick pony really.
Phil Hubbs
Super Reviewer
Sausage Party Quotes
There are no approved quotes yet for this movie.