Sans Soleil
(1983)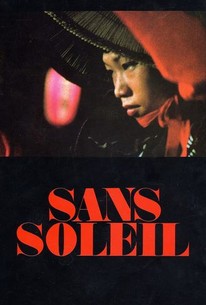 Movie Info
In this offering, French documentary filmmaker Chris Marker takes his cameras to Japan, demonstrating how industrialization and depersonalization often go hand in hand. He contrasts these scenes with the unspoiled vistas of Africa -- then contrasts these scenes with piquant glimpses of modernized Europe, Scandinavia, and California.
News & Interviews for Sans Soleil
Critic Reviews for Sans Soleil
Audience Reviews for Sans Soleil
Difficult-to-describe, stream-of-consciousness essay travelogue; essentially, it's an arthouse mondo movie. Remarkable images include the disturbing slaughter of a giraffe and a Japanese temple devoted to ceramic cats; it seems random, but every shot is accompanied by a keen observation on culture and humanity. Dreamlike, floating, and poetic, it's a must-see for the intelligent and adventurous viewer.
½
"Sans Soleil" deserves academic respect, but this is among the most exasperatingly tedious films I've ever sat through. At least it's unusual -- the most apt comparison may be "Koyaaniqatsi," as director Chris Marker's camera roams through Japan, Guinea-Bissau, Iceland, Paris and San Francisco capturing documentary glimpses of local culture. Ceremonial rites of Tokyo are especially prominent. As with "Koyaaniqatsi," the film is artfully detached and stresses editing rhythm as much as thematic content. No problem so far, but then comes the narration. You'll never see a movie where you wish so much that the narrator would simply shut her yap. The text takes the stilted form of a monotone female quoting letters from a fictionalized cameraman, so the ideas are constantly prefaced with "He wrote that..." and "He wrote me that...." This tic grows old fast. And all the heady philosophizing (memory over time is the dominant motif) is so maddeningly dense and persistent that the accompanying images never get a chance to breathe. What an exhausting film. And unlike "Koyaaniqatsi," it doesn't even have a strong score. Little beyond bubbling synthesizer effects. A caution to sensitive parties: Some borrowed footage of a giraffe being gunned down is extremely disturbing.
Eric Broome
Super Reviewer
This is Chris Marker's free form travelogue that was released in 1983 (RT is wrong about it being released in 2002) and is a meditation of life on earth and societies impact on man. While this is a film that most modern audiences would be lost with and probably bored by, "Sans Soleil" is an artistic documentary that is a multiple layered conceptual look into society and mankind as a whole. The film uses a combination of film elements including archival footage, nature footage, animal kingdom footage and mostly of man living in their own world. This is a thinking man's documentary and is both serious and humorous as it explored such topics as sexuality, capitalism, and our basic human desires. The film is narrated by Florence Delay and her calming voice overlaps most shots in the film and along with the meditative score, really add a sense of calm to the overall feel of the movie. All of this adds up to a deeply personal yet equally immersive experience for the viewer. Be warned that there are scenes of both graphic nudity, sexual content, and other mature topics throughout the film.
Chris Browning
Super Reviewer
Sans Soleil Quotes
There are no approved quotes yet for this movie.