The Saddest Music in the World
(2004)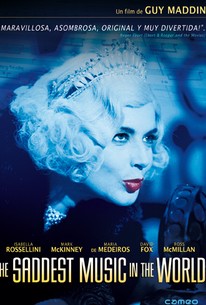 The Saddest Music in the World Photos
Movie Info
During the Winnipeg depression era, two brothers try to determine the saddest piece of music in the world, as part of an international competition announced by a double-amputee beer baroness Lady Port-Huntly to boost alcohol consumption.
Critic Reviews for The Saddest Music in the World
Audience Reviews for The Saddest Music in the World
½
A legless Canadian beer magnate (Isabella Rosselini) holds a contest during the Great Depression to discover the titular music; the bout attracts a musical family with a very odd and twisted history. Very funny if you can get past the need for everything to make absolute sense; Guy Maddin continues his visual experiments in recreating the look and feel of movies from the 20s and early 30s, yet this may be his most accessible and mainstream story.
½
Watched this as part of my avant-garde film class. Because I am lazy, here is the response I wrote: Since taking this class, I've developed an odd pleasure in picking out experimental technique in conventionally narrative films. Being aware of the genesis of many of these techniques and how mainstream cinematic culture has reappropriated them has really enhanced my comprehension and appreciation of the form overall. The Saddest Music in the World, in this regard, was the perfect capstone for this semester's screenings; its artful blurring of the line between a knowingly sentimental, almost maudlin narrative and unabashed avant-garde aesthetic sensibility extends a hand to an audience familiar with both worlds, inviting us to share in a celebration of the specific elements that make film so great. Even without its unique visual approach, The Saddest Music in the World would be a suitably bizarre movie. Its story, full of larger-than-life quirks and flourishes, suggests a certain magical realism, right down to its talking tapeworm and its prophetic medicine man in the snowy wilderness of Canada. It is wound, however, around a core of human loss and tragedy recognizable to any viewer - the challenge of the film is that Guy Maddin makes us work strenuously through his vision to reach that core. We must first swim through the often grainy, blurred picture, the rapid-fire editing, and montages of images that seem to make very little sense. These stylistic devices almost serve as layers of protection, as if Maddin was reluctant to surrender the emotions of his story right away. The movie teases in a playful way, conveniently strapping the emotional linchpin of the film with amnesia (and nymphomania), and it never truly divulges all its secrets, such as the ultimate fate of Roderick's son. Audiences accustomed to more commercial films may find this lack of closure unsatisfying, but the movie quickly makes clear that Maddin's definition of satisfaction is different than normal. The Saddest Music in the World is most interesting when its concept is dismantled fundamentally: what is it that makes music sad? Ultimately, a song boils down to a collection of resonances, sonic symbols that have more meaning to some than others. It is an immensely abstract art form, especially when its role in cinematic aesthetics is considered. Music is highly cultural, and American film culture has strictly regimented ideas about what constitutes appropriate music, which is what makes the concept of this film so exciting. In exploring the "sad" music of other countries around the world, we are thus invited to look at what we consider objectively sad and contrast it to the vastly different sounds that we hear. It serves as something of a metaphor at large for the film's idea of tragedy, because no matter how it is presented, or how we've experienced it, sad occurrences invoke the same universal sensations.
Drew Smith
Super Reviewer
½
I haven't viewed much of Guy Maddin's work, but after seeing THE SADDEST MUSIC IN THE WORLD, I'm not in any hurry too. I really liked the setting, plot, and Isabella Rossellini, but the dialogue is terrible and the weird for weird's sake approach to the material is almost nausiating.
The Saddest Music in the World Quotes
There are no approved quotes yet for this movie.