S&Man
(2010)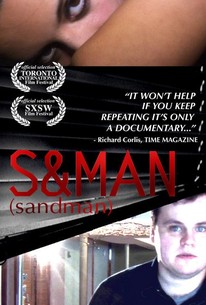 Movie Info
Soft for Digging and Mimic: Sentinel director J.T. Petty blurs the line between fact and fiction while exploring the connection between voyeurism and horror films by speaking with both the people who make them and the scholars who study them. In addition to delving into such issues as objectivity/subjectivity, audience sympathy, and what the need to be scared says about the viewer, Petty backs up his theory about voyeurism's connection to horror by exploring the case of a filmmaker whose eerie, shot-on-video horror films display an unsettling level of realism.
Audience Reviews for S&Man
½
7.4/10 Sometimes, I watch horror films to be entertained, and sometimes, I watch them to be disturbed, compelled, and shocked. Films such as "Henry: Portrait of a Serial Killer" and Lars Von Trier's "Antichrist" were not made to entertain. They were mean to feel like an emotional and horrific sucker punch to the face. If a film can disturb me whilst being smart, then that's good filmmaking. Bad filmmaking, in the horror genre, to me, is when someone can disturb you merely by showing; without telling. "S&Man", which is obviously just a stylized way to spell "Sandman", is a documentary that has done its homework on some of the nastiest and most horrific horror films/snuff films in history. I don't like snuff films. I never will. I don't get pleasure out of watching anything that shows violence without a reason, or without substance. I suppose you can still be sane and enjoy these kinds of movies, but I have limited respect for those who laugh and make rude, piggish comments on films meant to provoke and disturb. I liked "S&Man" because it is smarter than it probably needs to be. It knows quite a bit about the material it is talking about, and while the material and content shown is horrific and repulsive, the film has its reasons; and they are good ones. It's not an informative documentary, per se, but it makes commentary on the horror genre, and it is commentary that actually works. The film is about the documenter and his crew diving deep into the world of horror filmmaking. There are some interviews with people who specialize in horror analysis; people that understand the genre as much as, say, a guy like me does. At its core, the movie really is about snuff films and underground horror. That is what it wants to be about; and that is the kind of movie that it is. I went in knowing that I could either feel dirty and dizzy upon viewing it, or I could absorb it and see it as intelligent filmmaking. It's a good movie, with a point (which basically stands as its story) that draws you in until the very end. Look people. Don't expect to enjoy this movie. It's not meant to be enjoyed, and it is not presented in a way where you could look at it and say, "Hey. That was fun to watch!" You shouldn't think like that, but if you are a horror fan, then you may appreciate the stuff that this film says for the dark corners of the cinematic earth. I guess when it all comes down to you deciding whether you actually want to watch this thing or not, you have to make a decision. Would you find these people sick on sight, or would you perhaps look at them for a while and then make your finale verdict? Can you sympathize for people who make snuff films for fun? I can't. I don't think they are good people; I don't think they are bad people. They are just human beings with the ability to enjoy things and acts that most cannot. If you can take "S&Man" for what it is, and without vomiting, then you're ready for it. I am recommending it because in fact, it's a smart movie. Not for everyone due to what it depicts, but it knows more than any other horror satire/documentary I've seen (from the modern era, and for quite some time, that is). If you are a smart movie-goer who likes smart horror films, then you will like this smart movie. It's as simple as that.
Ryan Marshall
Super Reviewer
Interesting look into underground extreme horror with a bit of a twist. Worth seeing.
Christopher Brown
Super Reviewer
S&Man Quotes
There are no approved quotes yet for this movie.