Russell Mulcahy's Tale of the Mummy
(1999)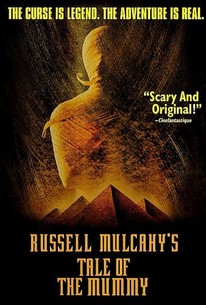 Russell Mulcahy's Tale of the Mummy Photos
Movie Info
Best known for his Highlander series, Russell Mulcahy pays homage to the Hammer films of the 1960s with this all-star recreation of the Mummy story. Centuries ago, a sadistic prince named Talos was buried and his tomb was infinitely cursed so that no man would ever again suffer from his evil ways. But hundreds of years later, a group of archeologists break the seal of the tomb and are brutally massacred. The bandages of Talos are discovered years later by the head archeologist's daughter and brought back to London to be displayed in a museum. But the bandages go on a violent rampage. His evil threatens to spread around the world when the approaching alignment of the planets will raise the legendary Talos to a level of immortal power. The American detective in charge of the affair and the daughter of the archeologist race against time to defeat the malicious mummy. Russell Mulcahy has modern computer graphics techniques on his side in this remake of the classic Mummy monster story. At the same time, he has invited the legendary Christopher Lee to appear in the role of the ill-fated archeologist who discovers Talos. Shelley Duvall and Jason Scott Lee round out the main cast.
Critic Reviews for Russell Mulcahy's Tale of the Mummy
All Critics (6) | Fresh (1) | Rotten (5) | DVD (1)
Unless you find the idea of killer mummy wraps particularly frightening, chances are you'll find this direct-to-vid thriller as ridiculous as I did.
Not bad but poor CGI muffles the scares.
September 8, 2002 | Rating: 3/5
Audience Reviews for Russell Mulcahy's Tale of the Mummy
Dull in every corner and every bit of the Movie.
This really was a poor film , full of corny lines , bad acting and dull special effects. You could tell the director is not English as all the characters were because of some stupid steriotypical moments such as red phone boxes in ever street scene,lemon tea being drunk by bobby's and whats with everyone carrying a gun??? This was not Across 110th Street!.Apart from that the film was dull. Dont confuse this film with THE MUMMY because although the mummy wasnt a masterpiece it was far better than this fair. If you wanna be scared dont bother with this tripe
Cassandra Maples
Super Reviewer
Director Russell Mulcahy's film is an okay diversion, but lacks the appeal and thrills needed to make it grand entertainment.
Dean McKenna
Super Reviewer
Russell Mulcahy's Tale of the Mummy Quotes
There are no approved quotes yet for this movie.