Running on Empty
(1988)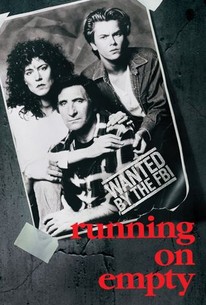 Movie Info
In this family drama from director Sidney Lumet, Judd Hirsch and Christine Lahti play Arthur and Annie Pope, a pair of '60s radicals who have eluded the FBI for 16 years after bombing a napalm laboratory as a Vietnam War protest. This lifestyle involves continually moving their base of operations and establishing new identities, which is especially hard on their children, 18-year-old Danny (River Phoenix) and 10-year-old Harry (Jonas Abry), who can never amass a group of friends or an academic record. This last problem comes to the fore when they arrive in a New Jersey town where the high school music teacher (Ed Crowley) takes an interest in Danny's piano playing, encouraging him to apply for early admission to Juilliard. Danny yearns to follow this dream, but knows that separating from his parents would be a permanent break -- the aging hippies rarely even see their own parents, and can never inform anyone where they've moved. Arthur can't stand the idea of breaking up the family unit, which has provided the support that's allowed him to tolerate life on the move, but Annie sees her own sacrificed dreams in her son's prodigious musical talents, and begins pressuring Arthur to grant the boy his independence. Complicating factors, Danny has fallen in love with the daughter of his music teacher (Martha Plimpton), but can't allow himself to get too close to her, because he may have to leave again at any moment. ~ Derek Armstrong, Rovi
Critic Reviews for Running on Empty
Audience Reviews for Running on Empty
Annie Pope: What are we doing to these kids? They've been running their whole lives like criminals, and they didnt do anything!  "They chose their lives. Now their son must choose his." I seldom cry during a movie, and I never cry upon repeat viewings of a film. That is unless it is Running on Empty. There's two parts of this movie that I tear up at every time. There's the scene near the middle where the family and Lorna dance to "Fire and Rain" because it directly ties to the ending, which is the second scene I always tear up to. That scene in the middle is one of my favorite scenes of all-time, and easily one of the most touching. Running on Empty is also one of the most powerful films I have ever seen. Arthur and Annie Pope are activists that blew up a napalm plant in the late 60's. A mistake was made and a janitor was blinded and paralyzed. The two have had run ever since, with little to no contact with their parents. They have two sons, Danny, who is a senior in high school, and Harry, who is ten. The two kids have grown accustomed to leaving town and changing their identity and we are shown that right at the start of the film. We see Danny riding his bike home, where he spots cars posted up outside his house. He knows exactly what to do because he has had to do it before. The family leaves their house, their dog, and all their belongings behind. They make off for a new place to live, where they will have different hair colors and different names.  This film isn't about the parents or their mistake. It is about their oldest son, Danny. Danny has been moving around like this since he was two years old, so it isn't anything new to him. He is used to leaving friends and pets behind. He knows not to get to close to people or let people get to close to him. That all changes when he chooses music as his elective at the new high school he is attending. See, Danny is a very gifted piano player, and his music teacher takes a liking to him right away. Soon Danny takes a liking to the teachers daughter, and she likes him back. The teacher also is hassling Danny to apply to Juilliard, which isn't really an option because that would mean leaving his family behind, and possibly never seeing them again. It is a very character driven film. The father wants desperately for the family to stay together and does want to hear anything about Danny leaving them and going to college. The mother feels guilt for putting her kids through all this and wants to make it up to them. Both of them are great parents though. They have raised their kids with good, strong values, and you can tell from how they act that they have been raise well.  Running on Empty is underrated and under seen film. It is a Sidney Lumet film and really doesn't come up in the discussion of his best films. Everyone talks about Network and Dog Day Afternoon. I've always found it hard to choose between my favorite Lumet film. It's always been close between Dog Day Afternoon and Running on Empty. Well upon another viewing of Running on Empty, this is my favorite. It is so wonderfully uplifting, sad, and powerful. It is beautifully acted by everyone. River Phoenix gives a tremendous, Oscar nominated performance. In my opinion, he deserved the Oscar. Kevin Kline was great in A Fish Called Wanda, but the range of Phoenix's performance is astounding. Christine Lahti and Judd Hirsch are wonderful as the parents.  I strongly recommend everyone to watch this film. You may not have heard of it and it may not be the easiest movie to track down. But if you get a chance to watch it, take it. I don't believe you will regret it. Arthur Pope: Now, go out there and make a difference. Your mother and I tried. Don't let anyone tell you different. 
Melvin White
Super Reviewer
The moody, brilliant, and exceptionally mature River Phoenix shows us yet again why he was the in the forefront of our minds to become a classic actor.
Spencer S.
Super Reviewer
I really like this movie a lot. Sure, it's mostly because of River Phoenix and his extremely deep performance, but it's really a different type of movie. I think the family on the run scenario works well here. Not knowing the whole story at first makes it such a suspenseful storyline. You have these almost scarily selfish parents who rob their kids of a life in order to escape police capture. While you ultimately feel sorry for them, you almost feel just as angry that Danny can't have any real emotional attachments or relationships.
Conner Rainwater
Super Reviewer
Running on Empty Quotes
There are no approved quotes yet for this movie.