Runaway Train
(1985)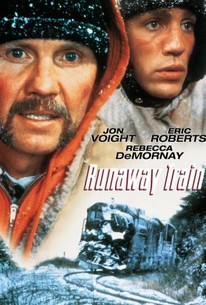 TOMATOMETER
AUDIENCE SCORE
Critic Consensus: Charging forward with the momentum of a locomotive, Runaway Train makes great use of its adrenaline-fueled premise and star presences of Jon Voight and Eric Roberts.
Movie Info
Russian director Andrei Konchalovsky's second American film may well be the only existential adventure flick in Hollywood history. Two prisoners, Manny (Jon Voight) and Buck (Eric Roberts), escape from a desolate Alaskan maximum-security facility. They hop aboard a speeding train, making a clean escape. But the engineer has suffered a heart attack, and the train goes out of control. To prevent a disastrous head-on collision, the railroad heads decide to derail the runaway train, killing its occupants to save the lives of hundreds of others. Once Manny catches on to what's happening, he tries to jump off the train, only to be talked out of such a foolhardy act by railroad employee Sara (Rebecca DeMornay). As doom approaches, Manny apparently goes mad, viciously preventing any attempts to stop the train or rescue its passengers: if he's to die, and if the others are to be saved, it will be on his terms, or no terms. Runaway Train was slated as a project for Akira Kurosawa in 1970, but for various creative and scheduling reasons, it remained on the back burner for 15 years. ~ Hal Erickson, Rovi
News & Interviews for Runaway Train
Critic Reviews for Runaway Train
Audience Reviews for Runaway Train
½
A solid but conventional action thriller like many others made in the 1980s, oscillating unevenly between efficient moments and scenes that simply do not work - and even if relying on a lot of coincidences and with a ridiculous villain, it offers great performances from Voight and Roberts.
Carlos Magalhães
Super Reviewer
½
The underrated John Voight crafts another stellar, intense, chamaleonic performance. Great and defiant thriller that keeps its best cards for the end, an instant that holds an overwhelming sense of beauty, one final act of honor and acceptance of the seemingly unavoidable fate, for is better to embrace death with honor than to rot like an animal in confinement.
Pierluigi Puccini
Super Reviewer
What an entertaining ride. The dialogue is laughable at times, but what works is the raw storytelling. Loaded with "What's that actor's name?" type actors, it works because the actors want it to work. The plot isn't anything deep other than two convicts on the run on a train without brakes. That's all we really need. Yet, only a few minutes into the opening credits, it drops an unexpected bit of information by revealing that it is based on a screenplay by legendary Japanese filmmaker Akira Kurosawa. Wha? Perhaps, it explains why this isn't your typical action film, but a great action film. You really get the feeling the train is out of control (as much as it could be on rails) with great camerawork and stunts. It doesn't rely on 100 camera edits a minute, or one explosion after the other or repetitive gunfights with corny one-liners that other action films of the 80's relied on so heavily. Jon Voight is awesome. Keep an eye out for Mr. Blue from Reservoir Dogs.
El Hombre Invisible
Super Reviewer
Runaway Train Quotes
There are no approved quotes yet for this movie.