Run Silent, Run Deep
(1958)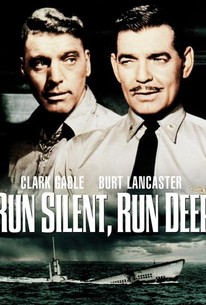 Run Silent, Run Deep Photos
Movie Info
The contrasting acting styles of Clark Gable and Burt Lancaster serve to increase the already high tension level of the WW2 drama Run Silent, Run Deep. Gable plays submarine commander "Rich" Richardson, who assumes command of the USS Nerka. Because his previous sub was sunk by the Japanese under highly suspect circumstances, Richardson inspires nothing but animosity from his new crew. Particularly hostile is executive officer Lt. Jim Bledsoe (Burt Lancaster), who'd assumed that he was next in line to command the Nerka. Obsessed with tracking down the Japanese destroyer that sank his old sub, Richardson drives his crew mercilessly, and even disobeys direct orders from his own higher-ups. The Nerka manages to blast the Japanese vessel out of the waters, but in so doing the sub is placed in dire peril in enemy waters. In his desperate efforts to save the Nerka, Richardson at long last wins the respect of Bledsoe and the rest of the crew. Featured in the cast of Run Silent, Run Deep are Burt Lancaster's old circus partner Nick Cravat, and, in his unbilled movie debut, Don Rickles. ~ Hal Erickson, Rovi
News & Interviews for Run Silent, Run Deep
Critic Reviews for Run Silent, Run Deep
Audience Reviews for Run Silent, Run Deep
½
This typical WW2 submarine adventure is slightly garnished with drama as its top-billed stars bicker onscreen, the crew murmuring "mutiny!?" in the background, and that's about it. Expect the usual submarine movie go-to' cliches otherwise.
Kevin M. Williams
Super Reviewer
This one started out quite impressive and like many submarine pictures, it tells the story of two generations clashing their bonky heads in a fearsome struggle of command. Having two Hollywood Dinosaurs such as Gable and Lancaster on the bill makes this film worth watching from the get-go, even though Gable's health is already badly shaken in this one and in some scenes you can see him having the jiggies, but what the heck, it is Clark Gable FFS ! The on-screen chemistry works fine, even though they never became anything close to friends when making this film. The thing that let this one down for me is the ending and plot twist, because it returns to the stretch of being something truly unique to your rather average US-American war film (insert cliche ending here). Still, you should not miss it for the two lead performances alone.
Henrik Schunk
Super Reviewer
½
Enjoyable naval adventure starring Clark Gable as a WWII submarine captain who is out for revenge against a Japanese warship that took down the sub Gable was captaining the year before. Some tense moments and, with the exception of some obvious miniatures during the battle sequences, some decent special effects. Right up there with DESTINATION TOKYO and ENEMY BELOW as a quality submarine film.
Run Silent, Run Deep Quotes
There are no approved quotes yet for this movie.