The Rules of Attraction
(2002)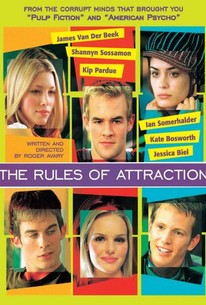 The Rules of Attraction Photos
Movie Info
Set in an affluent New England liberal arts college in the 1980's, an emerging sexual triangle emerges between Sean Bateman, who deals drugs on the side, Paul Owen, who's bisexual, and Paul's ex-girlfriend, Lauren.
News & Interviews for The Rules of Attraction
Critic Reviews for The Rules of Attraction
Audience Reviews for The Rules of Attraction
Despite the great soundtrack, decent performances and expert direction, this film based on Bret Easton Ellis feels a bit sterile, depicting with clever irony the moral decline of our society but not as effective in making us relate to its shallow, unlikable characters.
Carlos Magalhães
Super Reviewer
½
Paul Denton: I feel like my life lacks forward momentum, ya know. "There Are No Rules" The Rules of Attraction was a very disappointing movie for me. Not because it was really bad or poorly made, but because it never was able to get its point across in a way that was satisfying. Along the way, the film has some interesting commentary and dark humor, but the message is lost. I haven't read the book, but I'm guessing that the movie left out something that was vitally important in getting the message across clearly.  This follows a love triangle at Camden University, where rich, young men and women go to party, do drugs, and have sex. I think classes go on there too, but it doesn't seem like many of the characters really give a shit. The love triangle is between Sean, Paul, and Lauren. Sean is a part-time drug dealer who falls in love with Lauren. Paul is a bisexual, who used to date Lauren and now has a thing for Sean. Lauren is a virgin, who is waiting for her boyfriend to come back from Europe, but also wants to lose her virginity. As far as college movies go, this one is completely different. It's dark, it's odd, and it all seems very hateful. There's no sympathy for the characters which isn't something that has ever made me hate a movie, and it doesn't make me hate this one. What made this a disappointment for me was that it had such promise the whole time, and then we get to the end and I'm just left confused at what the actual point is.  This is an entertaining movie that has some good things too say and some not so good things to say. In the end though I was left wanting more from it and it looks like that is the general response from most viewers. I'm not going to say to pass on it because it really isn't a bad movie, but I reserve myself from recommending it also. 
Melvin White
Super Reviewer
After watching this, I wanted to shave off my skin, blow my own brains out, then sit in a cold shower hugging my knees. James Van Der Beek is delightfully skeevy, and it was nice seeing gruff and comparatively aged Ian Somerhalder from "The Vampire Diaries" all young and cherub-cheeked. Hilarious against-type cameos from Fred Savage and Eric Stoltz.
Alice Shen
Super Reviewer
The Rules of Attraction Quotes
There are no approved quotes yet for this movie.