Rules Don't Apply
(2016)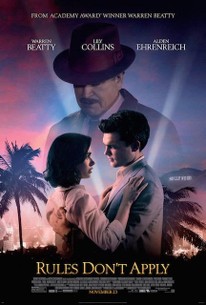 TOMATOMETER
AUDIENCE SCORE
Critic Consensus: With Rules Don't Apply, Warren Beatty takes an overall affable -- but undeniably slight -- look at a corner of old Hollywood under Howard Hughes' distinctive shadow.
Movie Info
An aspiring young actress (Lily Collins) and her ambitious young driver (Alden Ehrenreich) struggle hopefully with the absurd eccentricities of the wildly unpredictable billionaire Howard Hughes (Warren Beatty) for whom they work. It's Hollywood, 1958. Small town beauty queen, songwriter, and devout Baptist virgin Marla Mabrey (Collins), under contract to the infamous Howard Hughes (Beatty), arrives in Los Angeles. At the airport, she meets her driver Frank Forbes (Ehrenreich), who is engaged to be married to his 7th grade sweetheart and is a deeply religious Methodist. Their instant attraction not only puts their religious convictions to the test, but also defies Hughes' #1 rule: no employee is allowed to have any relationship whatsoever with a contract actress. Hughes' behavior intersects with Marla and Frank in very separate and unexpected ways, and as they are drawn deeper into his bizarre world, their values are challenged and their lives are changed.
News & Interviews for Rules Don't Apply
Critic Reviews for Rules Don't Apply
Audience Reviews for Rules Don't Apply
Flying quite a bit lower than The Aviator in terms of scope and entertainment value, Warren Beatty's lightly comic take on Howard Hughes charts a sometimes enjoyable - though not always breezy - old H'Wood romp. This PG-13-rated comedy presents the unconventional love story of an aspiring actress (Lily Collins), her ambitious driver (Alden Ehrenreich), and their eccentric boss (Beatty), the legendary billionaire Howard Hughes. The good news is: Rules Don't Apply ranks better than Beatty's last two turns in the director's chair (Love Affair, Town & Country). The bad news is: this ain't Heaven Can Wait (which hasn't aged well) or even Bulworth (which has improved exponentially with age, but more on that later), the two entries on his director/star CV that also qualify as out-and-out comedies. In an unparalleled H'Wood career that astoundingly bridged the Studio era (Splendor in the Grass, Bonnie & Clyde) with the Maverick '70s (Shampoo, McCabe & Mrs. Miller) and continued through the rise of independent cinema (Dick Tracy, Bugsy), this star simply has little - if nothing - left to prove. He's the living legend who made Reds, for Chrissakes. He wouldn't benefit from, say, showy Oscar noms in the December of his years a la Christopher Plummer (Beginners, All the Money in the World). Mind you, such a feat wouldn't be beneath him. Rather, he's an icon who's already accomplished so much that such prizes wouldn't really matter in the grand scheme of things. For him to make a film like Rules Don't Apply means that he's either bored, has a strong interest in the fascinatingly enigmatic Hughes, or probably a little bit of both. It's as if Beatty wondered what the lift of the eccentric billionaire would look like through the lens of Preston Sturges. With this basic framework in place, he puts a screwball love triangle at the center and lets the comedy ensue...at least in parts. Oftentimes clunky, the pacing of Rules Don't Apply just isn't consistently fun or fast-paced enough. Perhaps, he should've emulated Sturges' style a little closer. Rules Don't Apply certainly has its moments though. Most of these moments come courtesy of the casting, which sees Ehrenreich, Collins, and a dynamite supporting cast shine even when the shenanigans slog along. Also, from set design to costuming to music to the photography - his crew nails the look and feel of the '50s. For a film with the title "Rules Don't Apply," however, Beatty's latest doesn't really take chances. Remember, this is the director who gave audiences the edgy and prescient political comedy Bulworth, which makes a hell of a lot more sense now than it did in 1998 and it made a lot of sense then. Rather, what results is a throwback that plays it safe. With better editing, it could've instead played it for laughs which was the whole damn point. To Sum It Up: Retro Ill-Fitted
More humorous than I expected. It's kind of a mess, but I still admire Beatty's bizarre vision.
Alec Barniskis
Super Reviewer
At the core of this slice of late 50's, early 60's Hollywood is, tah-dah, (of course) a love story. Unfortunately both of our young lovers come off as opportunistic wannabes, particularly when played against the always-in-shadow Howard Hughes (writer/director/producer Beatty) who seems bewildered as to why they seem bewildered over being played so, um, ruthlessly. And he does play them both. Sucks all the charm right out of the thing. Somehow Annette Bening escapes as the only sympathetic character onscreen and she's only there for a minute.
Kevin M. Williams
Super Reviewer
Rules Don't Apply Quotes
There are no approved quotes yet for this movie.