Roxanne
(1987)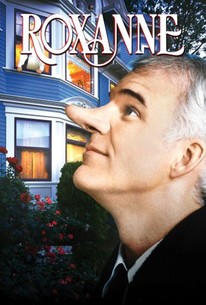 TOMATOMETER
AUDIENCE SCORE
Critic Consensus: Though its sweetness borders on sappiness, Roxanne is an unabashedly romantic comedy that remains one of Steve Martin's funniest.
Movie Info
This modernization of Edmond Rostand's Cyrano de Bergerac casts Steve Martin as C. D. Bales, the fearless, quick-witted fire chief of a Washington State resort town. Bales' most trusted fireman is the handsome but tongue-tied Chris McDonell (Rick Rossovich). Both men are in love with the beautiful Roxanne Kowalski (Darryl Hannah), but Bales, adorned with a huge nose that makes Bob Hope look like Nanette Fabray, is convinced that he's too homely to win Roxanne's heart. Thus, in the self-sacrificing tradition of Cyrano de Bergerac, Bales courts Roxanne vicariously by feeding his rival Chris the proper romantic words and phrases. The inherent pathos in Roxanne is offset by moments of slapstick, notably the scene wherein C. D. Bales vanquishes a pair of hooligans with a tennis racket. Steve Martin himself is credited with the screenplay for Roxanne, though he generously cites Edmond Rostand as his inspiration.
News & Interviews for Roxanne
Critic Reviews for Roxanne
Audience Reviews for Roxanne
½
A wacky Steve Martin comedy set in the pacific northwest of America that is based upon the 1897 play [i]Cyrano de Bergerac[/i] by Edmond Rostand?? You certainly don't get movies like this anymore. So in a nutshell the 1897 play revolves around a cadet in the French army, de Bergerac. A strong willed, passionate and confident man who is, amongst other things, a gifted poet, musician and duelist. There is just one problem, he has a rather large nose which causes him much angst. It is this one feature of himself that prevents him from expressing his true love for Roxane, his cousin...ahem (twas a different time). Long story short, a good looking young man named Christian enters de Bergerac's company of guards. Roxane loves Christian and asks de Bergerac to protect the young soldier, he agrees but is angry. After being told that Roxane loves him, Christian is upset because Roxane is an intelligent woman whilst he is basically a dumb soldier, how can he compare? de Bergerac seizes the opportunity and offers to write to Roxane for Christian, pretending to be him. Christian agrees and de Bergerac is able to spill his love for Roxane through Christian. Eventually of course Christian tires of de Bergerac's help and tries to woo Roxane himself, failing. Over time Christian works out de Bergerac's true feelings for Roxane and wants Roxane to choose between them. But before this can happen Christian is killed by gunshot (twas during a siege with Spain) leading to Roxane living in a convent. Again long story short Roxane eventually discovers that de Bergerac wrote all the love letters to her and realises that she loves him. Alas de Bergerac also dies in the end but not before knowing Roxane loves him. Happy ending? Naturally this 1987 comedy doesn't exactly follow along these lines. There is no war with Spain and nobody dies. Martin plays the fiery fire chief C.D. Bales (note the initials) who has an incredibly long narrow nose. As with the original plays character of de Bergerac, Bales is confident, skilled in the arts, athletic, and most definitely a charmer with the ladies. And also like the play the residents of the small town Bales lives in know not to mock him for his nose because he will usually get his own back. Unlike the play this does not involve duels of course, but often cruel biting attacks of sarcastic humour, or even the odd scuffle if needs be. His athleticism and dry mocking wit are definitely his main weapons and the main comic tools in this movie. In the play de Bergerac does tend to hate himself and can be very spiteful. Here Martin (obviously) plays the character of Bales in an upbeat way, he embraces his nose mostly, but at times he does dream of a more regular look. Martin really shows how he can do more than just act silly, which at the time was what he was most known for. There are plenty of great little scenes which showcase Martin's range such as Bales fighting with a couple hecklers in the street. The 20 nose joke sequence where Bales destroys a drunkard insulting his nose. And of course the key scene which is taken from the classic play where Bales assists Chris (Rick Rossovich) under Roxanne's (Daryl Hannah) balcony. The other key characters Chris and Roxanne are both solidly performed by Rossovich and Hannah. Can't deny Rossovich has a tough job dealing with a character that's just a big lunk yet lovable and likeable. Chris is totally the hunky dumb stereotype that is loosely based around Christian. Admittedly Rossovich's acting isn't stunning or anything but he conveys his character well. As for Hannah (the beautiful Roxanne), she's exactly as you would expect her to be at the height of her sexy phase. Light, fluffy, smart, a beaming smile, golden flowing locks, a great body, a nice house etc...Pretty much every male dream at the time and she doesn't disappoint on that note. Alas despite a good performance its basically nothing out of the ordinary when it comes to soppy rom-coms. To anyone who is completely oblivious to the original source material of 1897 this movie will probably come across as a very safe schmaltzy romantic comedy. You don't need to know about the 1897 play as everything presented to you works on its own. What you have is a sentimental rom-com about a nice guy with a big nose who's in love with a beautiful young woman; but must somehow get around the fact she loves the good looking hunk who's just turned up on the scene. Most would probably know if the movie was for them simply by watching the trailer with its gooey pleasantville visuals, good looking stars, cheeky comedy, and Martin on a full charm offensive. To anyone who knows of the original 1897 source material, I think they would appreciate director Fred Schepisi's attempt at updating the play for the modern (at the time) era. Not an easy task all things considered, but I think Schepisi and Martin did an admiral job here in terms of emotion, story and light-hearted comedy. Obviously there are big changes such as the finale which had to be done I guess. Others are more questionable such as the whole firefighter aspect, why did Bales need to be a chief firefighter? This doesn't really add anything to the plot. And why are the other firemen so utterly useless at their job? They are obviously there for pure comedic relief but it just makes no real sense, they are literally bumbling idiots. But yeah, this is a Steve Martin romantic comedy from the 80's, it does exactly what it says on the tin, so to speak. Dare I say that maybe the ladies would like this movie more so than the gents? I mean it is wacky Martin being wacky, but its also Martin being a bit more restrained and maturing at the same time. No surprise that there is more lovey-dovey stuff in here than laugh-out-loud moments (no toilet humour here folks). Despite that the comedy does work in general. It ranges from clever wit to being somewhat dated, a bit childish at times, a bit cringy. But at no point does the movie outstay its welcome, if anything the gorgeous sleepy little town setting makes you wanna live there. Its certainly a unique movie with plenty of heart and a good overall message about being yourself.
Phil Hubbs
Super Reviewer
½
This modern version of the classic Cyrano de Bergerac tale about the man with the long nose and great wits found the perfect leading man in Steve Martin. He fills his protagonist with enough charm, charisma and arrogance to make the movie work even through a few rather sappy parts. The best moments are those of the small ideas, like lovably chaotic fire department or the fact that Chris climbs houses like an athlete. Even though Hannah does not exactly make for a convincing object of desire with her desperate need for romance, the film easily maneuvers through the weak parts thanks to its leading man and plenty of good and lovable jokes. Another big asset is the setting, an adorable mountain town that works wonders for the movie's atmosphere. They just don't make such comedies anymore.
½
Somehow I'd never gotten around to seeing this movie until now, but I guess I wasn't missing much. Rossovich is too over-the-top stupid to fit the tone of the rest of the film, the dialogue and directing are sloppy, the acting is pretty mediocre all around, and Daryl Hannah?? How she is cast as this gorgeous object of affection baffles me. Slim pickings in that town, I guess. The acrobatics, the sniffing out fires with his nose.... it's all just trying too hard.
Martin Bishop
Super Reviewer
Roxanne Quotes
There are no approved quotes yet for this movie.