Rough Magic
(1997)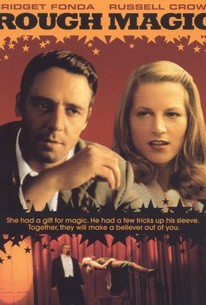 Movie Info
In this lively road movie, set in Mexico in 1950, sophisticated, handsome Cliff Wyatt is being groomed to become a presidential candidate. Unfortunately, his single status presents a problem, and so he ends up getting engaged. The trouble begins when his fiance realizes that Cliff is really a slimeball.
Critic Reviews for Rough Magic
All Critics (7) | Top Critics (3) | Fresh (1) | Rotten (6)
Maybe the project was so weird it was doomed from the start. Give Rough Magic credit, however, for possessing all the pieces necessary to make two other movies that both might have worked.

Rough going.
January 1, 2000 | Rating: 1/4

Wild and zany film that mixes comedy with the magic realism of Latin American novels.
Audience Reviews for Rough Magic
What an oddball of a movie! Set during the early '60s but plays more like a detective story from the '40s, at least during the first half. Bridget Fonda is not an outstanding actress nor will she win a beauty pageant, but she's always held some inexplicable allure with me - Queen of the Plain Janes in a way. She does look her best as magician's assistant Myra who flees to Mexico with photographic evidence of her fiancee Senator Wyatt accidentally shooting her mentor. On her trail is P.I.-for-hire Ross, played by Russell Crowe still getting his feet wet in Hollywood. There is some great snappy banter between the two and they exude a nice sexual tension, and this section is the best part of the movie. Then we meet Doc Ansell, amusingly played by Jim Broadbent, who wants to enlist Myra to acquire the secret formula to an elixir with magical properties from a reclusive woman who chants on a mountainside, and things get really goofy. A man turns into a sausage, a woman lays an egg that hatches a spider, a guy instantly drops dead, a dog speaks, people levitate, and a woman coughs up her heart. I have no idea what director Clare Peploe's grand design was for Rough Magic - many of these elements are fun but so bizarre it's hard to discern the function to the form. This movie has gotten raked over the coals here on Flixster, and there is some justification, but it certainly is more entertaining than most bombs. Some great dialogue and chemistry between the leads buoy the original yet crazy developments; you could do a lot worse on a rainy day than by turning on Rough Magic.
Doctor Strangeblog
Super Reviewer
½
This very strange brew of film noir, magic realism, and screwball adventure is an entetaining mess.
Dean McKenna
Super Reviewer
Rough Magic Quotes
There are no approved quotes yet for this movie.