Room Service
(1938)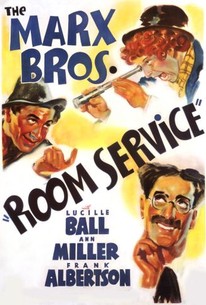 Movie Info
Having paid $255,500 for the rights to John Murray and Allen Boretz' Broadway hit Room Service, RKO Radio then scouted about for a "perfect" cast. Thanks to the persistence of show-biz agent Zeppo Marx, RKO was able to secure the services of Zeppo's brothers Groucho, Harpo and Chico Marx for $100,000. The result is an uneven but entertaining blend of traditional stage farce and Marxian madness. Groucho plays two-bit producer Gordon Miller, who has gone deeply into debt while trying to stage a turgid production called "Hail and Farewell". Miller and his entire cast are ensconced in the Great White Way Hotel, managed by his brother-in-law Gribble Cliff Dunstan, who is fed up with the troupe's inability to pay its bills. As Miller, his director Harry Binelli (Chico) and his business manager Faker Englund (Harpo) try to figure out new methods of raising money, in walks Leo Davis Frank Albertson, the wide-eyed playwright, who is unaware that his masterpiece is in danger of closing before it even opens. He soon figures out what's what after Harry and Faker hock his typewriter for eating money. When hotel inspector Wagner Donald MacBride threatens to throw Miller and his entourage out bag and baggage, the producer and his cronies fake a measles epidemic so that Wagner will be forced to allow them to stay. Salvation seems at hand when Jenkins Philip Wood, a potential backer, arrives with a blank check in hand. But after sampling a bit of the lunacy that has surrounded the play since its inception, Jenkins dashes off, refusing to finance such a chancy property. Miller manages to mollify Wagner by pretending that Jenkins has invested money in the show, but when this scheme falls through, our hero resorts to really drastic measures by pretending that Davis and Faker have both committed suicide because of Wagner's persecution. Weaving in and out of the proceedings are nominal heroines Lucille Ball and Ann Miller, as well as Philip Loeb (who played Faker in the original Broadway production), brilliantly cast as a mild-mannered bill collector. Room Service is hardly typical Marx Bros. fare, despite the efforts by screenwriter Morris Ryskind to inject characteristic verbal gags and visual bits into the action; the film works better as a situation comedy than as a Marx vehicle (Groucho's only comment on the subject was that his brother Zeppo should have arranged a larger salary). In 1943, RKO Radio remade Room Service as a musical titled Step Lively, which was actually something of an improvement on the original.
Critic Reviews for Room Service
Audience Reviews for Room Service
I love the Marx Brothers, but this movie wasn't as good as their other movies. It felt slow and very scripted, no ad libs. Also, it felt as though the screenwriter gave the other actors more jokes than the Marx Brothers. Groucho seemed really quiet in this movie, he didn't get to say much, and I didn't like that. I was disappointed with this movie. Towards the end it gets funnier, though, so it wasn't all bad.
JUMPING BUTTERBALLS! Adapted from a stage play, which is obvious when you notice that nearly the entire movie is filmed within two adjoining hotel rooms. Made for RKO, so except for Ryskind who had written for some other Marx Brothers movies, they had a whole different production team and supporting cast. Still very funny situations and opportunities for madcap Marx antics, but no musical numbers except a few bars of Swing Low, Sweet Chariot. Ball is an actress in the play Groucho is trying to produce and his assistant, but she fades into the background amidst the brothers' schemes. Miller has next to no screen time and no chance of making an impression. Albertson is the author of the play, a whiny, small town bumpkin who is taken in by all the craziness. Dunstan plays Groucho's half brother and hotel manager, so he represents the authority of the hotel, but also goes along with Groucho's and Chico's plans without too much trouble. MacBride, as Wagner the efficiency expert, is really the stiff that the Marx Brothers are trying to tear down with their anti-authority hijinks. The man from the collection agency, the man representing the financial backer for the play, the Russian want-to-be actor, and the doctor each pop up in one or two scenes to move the plot and supply the set up for a couple gags. Several high quality visual and verbal gags are included. I must say that my favorite was when the doctor tries to get Harpo to say "Ahhh" too.
Byron Brubaker
Super Reviewer
Highly enjoyable from the Marx brothers. Unlike many of their other films, "Room Service" has a relatively coherent and followable story (instead of just "random" gags and musical numbers) and I liked that. Harpo has a pretty big role in this, and overshadows Groucho. Perhaps Groucho's less prominent role can explain why it's not one of their best, seeing that we miss many witty commentaries from Groucho. A must watch for the fans nevertheless.
Room Service Quotes
There are no approved quotes yet for this movie.