Rock Star
(2001)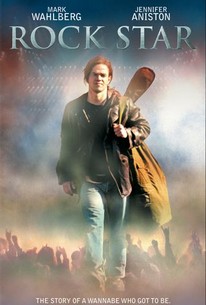 TOMATOMETER
AUDIENCE SCORE
Critic Consensus: Like its title, Rock Star is rather generic, being not so much about the heavy metal scene than about rock cliches and formula.
Movie Info
Loosely inspired by the true story of the heavy metal band Judas Priest, this music industry fable from director Stephen Herek is based on a script by actor-turned-writer/director John Stockwell. Mark Wahlberg stars as Chris Cole, a wannabe rock star who works by day as a copy machine repairman and by night as the lead singer of Blood Pollution, a Pennsylvania tribute band that imitates the best-selling heavy metal rockers of Steel Dragon. Although he's supported by his girlfriend Emily (Jennifer Aniston), Chris is devastated when his friends kick him out of the band he founded. His humiliation doesn't last long, however, as Chris soon learns that he's been tapped to replace the lead singer of Steel Dragon, literally becoming a rock star overnight. Chris soon has everything he's ever wanted but is disappointed to discover that being a superstar isn't everything it's cracked up to be. Rock Star was produced under two other titles, "Metal God" and "So You Want to Be a Rock Star." ~ Karl Williams, Rovi
News & Interviews for Rock Star
Critic Reviews for Rock Star
Audience Reviews for Rock Star
This is a film geared towards those who sing their fav rock songs at full volume in their shower or car, half dreaming about the adulation and power of becoming a rock god. And not one of those phony ones, but the real deal, the ones that believe in the dream. It pretends (like Cecil B. DeMille used to do) to look down on the extravagant lifestyle, the posing, the groupies, "but first let's just get a little taste of all that to begin with". The actors do well conveying the belief in the dream of rock n' roll, and look properly surprised to discover the seedy underbelly of the game. All in all not a clumsy effort as most rock n' roll fantasies tend to be.
Kevin M. Williams
Super Reviewer
½
Dream big. Live the life. Great Movie! Simplistic and Enjoyable. This was a very real movie of a real rock band. I think Mark and Aniston did great acting roles. The story was immensely interesting and it had a terrific ending that was just right. Very nice cast! Chris Cole was born to rock. His longtime girlfriend Emily believes his talent could take him all the way - but Chris worships at the altar of Bobby Beers, the fiery frontman for heavy metal legends Steel Dragon. By day, Chris still lives at home with his parents and spends his days repairing copy machines. But when Chris takes the stage, fronting Pennsylvania's premiere Steel Dragon tribute band, all of that disappears. Chris Cole is Bobby Beers - mesmerizing audiences with his perfect imitation of Beers' electrifying vocals. The night his bandmates boot him out of the group, Chris is devastated until an unexpected phone call changes his life forever: He, Chris Cole, has been tapped to replace Bobby Beers as the lead singer of Steel Dragon. In an instant, Chris rockets to the dizzying heights of sudden stardom, rising from devotee to icon, from rock fan to rock god the wanna-be who got to be. So what happens when an average guy gets everything he wants and discovers it's not enough?
½
It's actually a lot better than it gets credit for. It's one of Mark Wahlberg's best performances and a very captivating story from start to finish. It criticizes the hairbands of the 80s, but also show how many people they inspired and how much they meant. I love the message of being your own person, even if trying to be someone else can make you millions of dollars and fame up the wazoo. The supporting cast in this is amazingly underrated, much like the movie itself.
Conner Rainwater
Super Reviewer
Rock Star Quotes
There are no approved quotes yet for this movie.