Rock Slyde
(2010)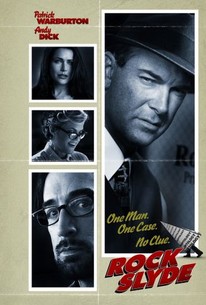 AUDIENCE SCORE
Critic Consensus: No consensus yet.
Movie Info
A bumbling gumshoe works to protect a hard drinking femme fatale from a mysterious stalker while contending with a cult leader who's trying to muscle in on all the local office space. Rock Slyde (Patrick Warburton) is a hardboiled private dick whose brawn trumps his brain-power. He isn't too bright, but he always gets his man. One night, Rock is in his office when Sarah Lee (Rena Sofer) bursts in looking for protection. Someone is following her, and she's willing to pay to find out who it is. Meanwhile, local cult leader Bart (Andy Dick) is expanding his empire, and he needs more room to grow. His headquarters are in the same business park as Rock's office, and so far Bart has managed to coerce every other tenant into signing over their lease to him. But Rock isn't about to budge. Later, while Rock is away working for Sarah Lee, his faithful secretary Judy Bee (Elaine Hendrix) succumbs to Bart's quirky spell. When Rock discovers that Sarah Lee too is a devoted Bartologist, he vows to dismantle the cult leader's growing empire from the bottom up.
Critic Reviews for Rock Slyde
Audience Reviews for Rock Slyde
"My name is Rock Slyde. I blame my mother. With a name like that, I was destined for one of two career paths: detective work or porn. After starring in two "art films," I decided the glamorous life of a porn star wasn't for me. Besides...I was hung like a hamster." Patrick Warburton is Rock Slyde, a private dick whose nose for crime makes him the perfect guy for tracking down a sexy client's stalker.
Apart from resisting the advances of femme fatale Rena Sofer's mysterious Sara Lee because he has a thing for black women after spending his childhood days watching "Soul Train," Slyde faces down adversary cult leader Andy Dick (Blessed Guru Bart of Bartology) whose main objective is to take over Slyde's office space to gain control of the building while rescuing his brainwashed secretary from their evil clutches.
Look out for cool cameos of "Dancing with the Stars" host Tom Bergeron, Eric Roberts (annoyed delivery guy) and that of Jason Alexander (Seinfeld) as a Jewish U.S. postal carrier. Good clean fun and Patrick nails the title character of Rock Slyde.
Rock Slyde Quotes
There are no approved quotes yet for this movie.