Robot Stories
(2004)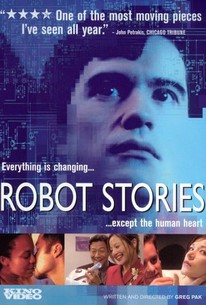 Movie Info
Greg Pak directs Robot Stories, a feature film made up of four separate vignettes set in the near future. In "My Robot Baby," Maria (Tamlyn Tomita) and Roy (James Saito) must take care of a robot baby before they can adopt a real one. In "The Robot Fixer," a car accident puts Wilson in a coma. His mother, Bernice Chin (Wai Ching Ho), tries to connect with him by repairing his old collection of toy robots. Her obsessive quest to find missing robot parts is observed by her daughter Grace (Cindy Cheung). In "Machine Love," a Sprout G9 iPerson (Greg Pak) is introduced to an office environment. In "Clay," sculptor John Lee (Sab Shimono) refuses to get scanned, which would merge his memory with a collective consciousness. He struggles to maintain his humanity against the judgement of his son Tommy (Ron Domingo) and wife Helen (Eisa Davis).
Critic Reviews for Robot Stories
Audience Reviews for Robot Stories
Rather than making one really good short film, director Greg Pak decided to film all four of his robot-themed short stories and compile them into one film. The first story, My Robot Baby, follows a couple as they take home a robot baby to show they are responsible enough to handle a real one. It's not a bad concept for a robot-themed film, and is a plausible scenario that will be familiar to anyone who had to take care of an egg for a sex ed class. As it turns out, the robot baby looks quite a bit like a football-sized egg with cardboard eyes stuck onto it. Despite the cheesy props the story does contain some interesting ideas, like when the robot's "mother" reprograms the bot so that it automatically takes care of itself. Unfortunately the concept was better explored and in much greater detail in Steven Spielberg's A.I., and it quickly dissolves into a silly suspense film when the baby robot runs amok late at night. The second story, The Robot Fixer, isn't really about robots at all. A distraught mother is visiting her comatose son, who has been hit by a car. While cleaning up his apartment, she and her daughter find his collection of robot toys. The mother decides to complete her son's collection in a symbolic bid to put her son back together. By the time this one was over I was ready to stop watching this turd, so I did. This review is a repost from my website: www.plasticpals.com
Robotbling -
Super Reviewer
½
A collection of 4 short stories all revolving around robots (as the title implies). The stories have a kind of Twilight Zone feel to them but none are very good. My favorite was the third story, a tale of two robots who seek love. Definitely not the most original story but it was interesting. Each story is about the length of a TV Show minus the commercials. Acting: 6/10 Story: 6/10 Originalality: 7/10 Soundtrack: 4/10 Characters: 4/10 Overall Rating: 5.4/10
Professor Wizenhymer
Super Reviewer
½
Robot Stories is an indie film that apparently had a budget of about five dollars. As the title indicates, there are four short stories, dealing with artificial intelligence in one form or another. There is very little heavy lifting on display here; no deep sci-fi ala Philip K. Dick or even pondering the ethics of Robotic Code, or, except for the last tale, any pondering of morality or the soul, as one gets with Asimov. Belying the title, these series of stories are concerned more with simple human elements, and really, robotics, or AI have very little to do with it. For example: the first story, entitled Robot Baby, deals with parenting more than anything. A young, successful career couple decides to have a child - only in this future scenario the couple must first tend and nurture a robot baby. There is a nice twist at the end of this story, which makes the viewing viable, but really, without the twist the story is very "been there, seen that". The second story is so very "so what" that I'm not even going to give it a second thought, while the third has only a "cute" factor going for it, along with one of two decent performance in the film (oddly by the writer/director himself - hmmm, perhaps the entire project was merely a way for him to show off his robotic shtick). The fourth story has a bit of gravitas to it, containing the other bright performance, in a tale dealing with questions of the soul and the definition of humanity. Here there is a bit of artistry in the filmmaking, but otherwise the stories are all very straight forward, and the direction and cinematography echo that. Overall, nothing to write home about, or even truly recommend.
paul sandberg
Super Reviewer
Robot Stories Quotes
There are no approved quotes yet for this movie.