Robot Carnival
(1987)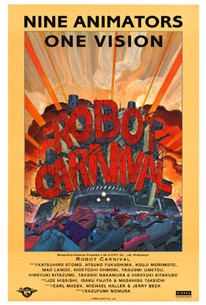 AUDIENCE SCORE
Critic Consensus: No consensus yet.
Movie Info
This anthology contains eight short animated films from top Japanese animators, all concerned with robotics. The range is broad, from comedy to suspense to love stories. Not every segment is completely successful, but the overall quality is high. Dedicated anime fans should be pleased. ~ Stephen Thomas Erlewine, Rovi
Critic Reviews for Robot Carnival
All Critics (1) | Fresh (1) | Rotten (0)
Both the poetic of 'Cloud' and the bad intentions that 'Franken's Gears' distills elevate the quality of 'Robot Carnival' until it becomes, perhaps not an essential piece of animated cinema, but a work worth checking out. [Full Review in Spanish]
Audience Reviews for Robot Carnival
Robot Carnival is a Japanese animated omnibus in the grand ole fashion of Disney's Fantasia: a collection of 9 animated short films by 9 directors. As the title suggests, each film takes a stab at the bridging theme of "robots". Made in 1987, the film is a decade shy of the humanoid robot revolution beginning with Honda's P2, which made waves in the mass media in '97. Not that the films are all that prescient; the ones illustrating the relationship between robots and their human inventors show them working away like a mechanic in a garage with nary a computer in sight. That said, I like to think the Robot Carnival seen in the introduction (and ending) – a monstrous orgy of mechanized musicians, pirouetting dancing girls, and explosive fireworks – was at least partly responsible for Toyota's robot band Concero. The introduction and outro, where the Robot Carnival levels an unsophisticated desert village, can be viewed as entertaining bookends for the film or as metaphor for the disastrous effect of technology unleashed on the world. The connecting outro reveals the unmanned mobile carnival was callously sent out into the world, but not maliciously: no one would have guessed it would become a roving death machine. The following film, Franken's Gears, has a similar metaphor inspired partly by Frankenstein. A mad scientist powers up a massive robot, which mimics his every gesture. Filled with joy, the scientist trips up during his victory dance, in which he plays with a planetary globe. The robot copies him by toppling over on top of him, crushing him. For one brief instant the scientist felt he had the world in the palm of his hand, only to be killed by his robotic creation, which splits the globe in half. Fans of Chrono Trigger (a Square-Enix RPG from the SNES) may find the music and robot design oddly nostalgic, as there are some surprising similarities. One of the films plays out like an action-oriented music video filled to the brim with everything that made the '80s awesome. Others delve into the subject of love and its complications, both between humans as well as between humans and robots. One of the films is an experimental piece that uses mainly dissolves of detailed illustrations. Another is clearly inspired by Disney's Legend of Sleepy Hollow, starring a drunken Japanese Ichabod Crane being chased by (hallucinated?) machines sprung to life. Possibly my favorite of the bunch is the comedic A Tale of Two Robots, which takes place in what appears to be 19th century Japan or earlier during the Dutch trading period, and stars two old-fashioned giant robots. The first one is a brick and mortar contraption operated by a foreign invader with dreams of taking over Japan. Standing in its way is a wooden robot built for parades operated by a crew of Japanese teenagers. The amusing battle that ensues sends the foreigner on his way but manages to destroy half the city in the process. Robot Carnival is one of many Japanese anime omnibuses, and compares favorably to Neo Tokyo and Memories due to its sheer variety of shorts. The films were obviously slaved over and operate on a higher level than what you might expect, and hold up extremely well 20 years later. I can easily recommend it, but unfortunately no region 1 dvd was ever produced, leaving fans with few options other than a circulating badly subtitled Chinese dupe. Luckily there's not much dialog in the film, and what is there can be parsed despite the horrible translation. Otherwise you might want to just pick up the Japanese release if you have a region-free player (or pray for a remastered Blu-ray edition). This review is a repost from my site: www.plasticpals.com
Robotbling -
Super Reviewer
Robot Carnival Quotes
There are no approved quotes yet for this movie.