Robin Hood: Men in Tights
(1993)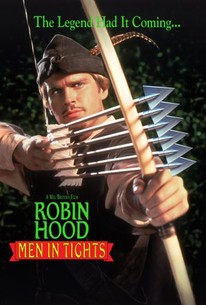 TOMATOMETER
AUDIENCE SCORE
Critic Consensus: Undisciplined, scatological, profoundly silly, and often utterly groan-worthy, Robin Hood: Men in Tights still has an amiable, anything-goes goofiness that has made it a cult favorite.
Robin Hood: Men in Tights Photos
Movie Info
Mel Brooks directed and co-wrote this satiric comedy which lampoons a number of cinematic treatments of the legend of Sherwood Forest, including Robin Hood: Prince of Thieves and The Adventures of Robin Hood. Robin Hood (Cary Elwes) comes home after fighting in the Crusades to learn that the noble King Richard (Patrick Stewart) is in exile and that the despotic King John (Richard Lewis) now rules England, with the help of the Sheriff of Rottingham (Roger Rees). Robin Hood assembles a band of fellow patriots to do battle with John and the Sheriff, including Asneeze (Isaac Hayes) and his son Ahchoo (Dave Chappelle), the blind watchman Blinkin (Mark Blankfield), Will Scarlet O'Hara (Matthew Porretta), and Rabbi Tuckman (Brooks). The Sheriff is eager to put Robin Hood out of business with the aid of criminal mastermind Don Giovanni (Dom DeLuise), but Robin soon has an ally in the royal palace when he falls for the lovely Maid Marian (Amy Yasbeck), whose minder Broomhilde (Megan Cavanagh) has uncooperatively outfitted Marian with a chastity belt. The cast also includes Tracy Ullman, Robert Ridgely, and Clive Revill. ~ Mark Deming, Rovi
News & Interviews for Robin Hood: Men in Tights
Critic Reviews for Robin Hood: Men in Tights
Audience Reviews for Robin Hood: Men in Tights
'We're men...we're men in tights...YES! we roam around the forest looking for fights!' A strange choice for Brooks I think, he seemed to move into historical legends in the 90's along with his take on Dracula. The tag for the film is accurate I guess, this legend did have it coming for sure with so many variations out there at the time...most notably and laughably the Kevin Costner debacle. Also not forgetting the Patrick Bergin Robin Hood flick that was emulating Costner's version! Of course being a Brooks film the cast is made up of all his regulars...and I'm sure if his older regulars weren't dead he'd have used them too. Amy Yasbeck begins her brief Brooks career here as Marian before rejoining Brooks for Dracula. Dick Van Pattern is back after working with Brooks in 'High Anxiety' and 'Spaceballs', Megan Cavanagh and Matt Porretta both went on to Dracula along with Yasbeck and finally the magnificent pair of Dom Deluise and Robert Ridgely are both Brooks film veterans. Naturally there has been many liberties taken with the plot...well actually its based around other Robin Hood movies really, nothing to do with the actual fable at all. Its clear to see the classic Errol Flynn version and the classic animated Disney version are the two main influences here. Brooks pretty much follows both of these films scene for scene whilst adding his own unique brand of spoofery. This whole approach does actually work well in all honesty because you can enjoy the cartoonish tomfoolery and it also kinda harks back to a different age of cinema. Whether this was intentional or not I'm not sure, it probably just happened because they were spoofing two classic films but the quaint visuals, simple effects and colourful characters are very appealing. There is a thin line between the silly childish humour and the slightly more risky adult humour which I think is handled well. I say adult humour but its not really that bad, just a touch of toilet humour. Whilst most of the laughs fall flat I can't deny there are some nice chuckles to be had and some clever imaginative send-ups. The usual blend of visual slapstick and cheesy dialog is to be expected but much of it is all in the delivery and luckily this movie does have some noteworthy comedic performances. Its quite a surprise that Elwes does actually put in a solid funny performance as Robin Hood, what's even more surprising is the fact he does have a slightly similar resemblance to Flynn...a blonde Flynn. His little tufts of facial hair, the fact he's British, that wry smug smile of his when he fights and all tied together in the classic green and brown attire. At the same time Richard Lewis is also a great Prince John! I loved how his mole kept moving across his face in each scene and his 80's mullet hairdo, plus this guy can deliver a funny line. He has this great whiny nervous tone to his voice which really comes to life when he panics and cries 'hurt them! hurt them!!'. I also must confess to enjoying Brooks small cameo as a Rabbi, could of gone another way but the old ones are the best ones I guess. Eric Kramer is also surprisingly amusing as the towering Little John, not so much to say but he is good with the visual comedy side of things as was Blankfield as the blind 'Blinkin'...sounds utterly cringeworthy I know but it does work. It was only Rees as the Sheriff of Rottingham (*groan*) that seemed to swing and miss for me, clearly trying way too hard to hammer those funny lines in. Same could be said for Tracy Ullman as the witch who didn't even really need to be there. As I'm sure everybody knows by now a film like this is all about the delivery, the comedic performances of the actors, if that aspect is nailed then the film is reasonably secured. Its not about the effects or sets or costumes...although its nice if they look good but end of the day its whether you can laugh with the film and not at it for being crap. Personally I think this movie just about makes the grade, its earned somewhat of a cult status over time and I can see why. There is a lot of embarrassing crud in here this is true (Dave Chappelle), some visual gags are terribly simple bordering on downright infantile whilst some of the visuals are very basic. But (and its a biggish but) there is also just enough solid cheeky clever lampoonery and dialog along with performances to make you smile. Although it doesn't have the overall sheen of Brooks follow up vampire flick.
Phil Hubbs
Super Reviewer
One of Mel Brooks lesser efforts still has it's guilty pleasures as well as the usual collection of Brooksian toilet gags. While much is disposable, and you will, there undoubtably is one something joke or gag that'll have you smiling to yourself the next day at work. Don't bother repeating it, they would've had to have been there.
Kevin M. Williams
Super Reviewer
½
Charmingly fun and one of the best parodies of all time, despite the fact that most of the jokes are kind of bad and cheap. What makes up for that though is the big glint in its eye combined with a very likable cast. And it was hilarious to see Patrick Stewart in such an unusual role. Especially as I'm more used to seeing him as the all-too-uptight Jean Luc Picard in Star Trek TNG.
Robin Hood: Men in Tights Quotes
There are no approved quotes yet for this movie.