Rob the Mob
(2014)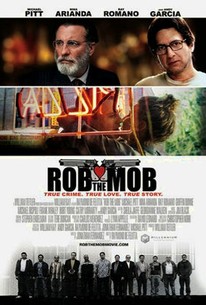 TOMATOMETER
AUDIENCE SCORE
Critic Consensus: Bolstered by a pair of likable leads and suffused in a warmly nostalgic glow, Rob the Mob is an uneven crime caper that mostly works.
Movie Info
New York City, 1991. Small-time crooks TOMMY (Pitt) and ROSIE (Arianda) have two things in common: a crazy-passionate love for one another and-after they're caught robbing a florist on Valentine's Day-prison records. Trying to go straight, Rosie lands a job at a debt-collection agency and persuades Tommy to join her. But soon Tommy is skipping his shifts to do something much more interesting-attend the landmark trial of Mafia hit man Sammy "The Bull" Gravano, whose graphic testimony could finally bring down flamboyant Gambino-family boss John Gotti. (c) Millennium Entertainment
News & Interviews for Rob the Mob
Critic Reviews for Rob the Mob
Audience Reviews for Rob the Mob
½
Honestly, I am not a fan of mob movies. I can count those I have seen on one hand. I am truly not interested in watching a movie about these people. Generally. My only reason for watching this was Michael Pitt. I am a fan and I'll give anything he is in a go. I couldn't say I actually liked him in this one as all I could see was the dumb ass true life moron he plays (which is a credit to his acting skills). I mean seriously, who would hold up the mob (or anyone) and show their face and then take personal belongings such as gold watches which could easily be identified as belonging to a particular person - also with no disguise. How did this man honestly expect to get away with that?! It staggers me that this is a true story. Having said that, it was entertaining and kept me watching and I liked the actress who played the girlfriend too - very unusual look and fun character (unfortunately, also dumb as). Slightly amusing (intentionally?), well paced movie. Recommended.
Nicki Marie
Super Reviewer
½
A true crime drama, Rob the Mob tells the unlikely story of how two naive small-time criminals ended up bringing down the New York Mafia. While following the criminal trial of John Gotti, ex-con Tommy Uva gets the idea to rob mafia social clubs, and in doing so he accidentally gets a listing of the entire Gambino crime family. Starring Michael Pitt, Nina Arianda, Andy Garcia, and Ray Romano, the film has a decent cast. But the writing is weak, particularly when it comes to the characters. And the storytelling isn't that great either, as it does a poor job at creating suspense. Despite the fascinating real-life events that Rob the Mob is based on, the film has trouble telling it in a compelling and interesting way.
Dann Michalski
Super Reviewer
True Crime. True Love. True Story. Good Film! There's nothing spectacularly creative about the story here...Excepting it's a pretty spectacular story which actually happened yet most of us, outside of NYC, never heard of. A true story told almost as straightforward as Hollywood can tell anything true which is to say: "sure, it's romanticized, but in a quite palatable way". The fact this is a true story defies all conventional beliefs about The Mob's armor plated invincibility. The real meat of the story is how the blind naiveté of a small time kid with criminal tendencies can decimate the entire hierarchy of that famed Sicilian institution, even doing so in an almost comic fashion. Like all organized crime, even if you cut off the head and most of the body there's always those who remain ready to step up. There's the problem and the viewer just knows this really might go on for a short time, but there will be a reckoning to be dealt with. In spite of this predictability It's an entertaining ride with the gore pretty much parked at the door. It simply is a very solid movie that works and isn't in any way "another mob movie". Rob The Mob has a real heart front and center of which Pitt and Arianda are to be commended for. See this one as it is very good. A Queens couple who specialize in robbing mafia social clubs stumble upon a score bigger than they could ever imagine, becoming targets of both the mob and the FBI in the process.
Rob the Mob Quotes
There are no approved quotes yet for this movie.