Roadie
(1980)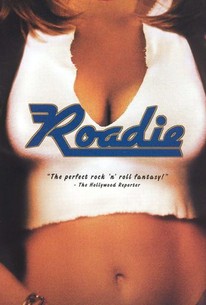 Movie Info
Roadie is a showbiz saga about the working slobs who make live pop-music performances happen. Texas good ol' boy Travis W. Redfish (pop singer Meat Loaf) drives a Shiner beer truck on his appointed rounds, but he becomes smitten with rock groupie Lola Bouillabase (Kaki Hunter), a "roadie" whose sole ambition in life is to bed her idol, Alice Cooper (playing himself). Travis' grizzled pappy, Corpus C. Redfish (Art Carney), feels disgusted by his son's lifestyle. After hearing that Cooper and his band are on tour, Lola sets out to catch up to them and offer her services, with Travis in pursuit. Along the way, they meet a number of pop-music stars -- Blondie, Asleep at the Wheel, Hank Williams Jr., Roy Orbison, and Ramblin' Jack Elliott -- who are all working on their own tours. Travis signs on, himself, as a groupie for a rock band, and is quickly dubbed "greatest roadie of all time," but he soon realizes that he must return to Texas for the wedding of his sister and his best friend.
Critic Reviews for Roadie
All Critics (7) | Top Critics (2) | Fresh (1) | Rotten (6) | DVD (2)
The movie's so genial, disorganized and episodic that we never really care about the characters, and yet whenever someone starts to sing the performance is interrupted for more meaningless plot development.

None of this is to argue that this is a great - or even very good - film but it is enjoyable on any number of levels. I'm just happy to have confirmation that I didn't just dream the whole thing.
August 17, 2013 | Rating: 85/100
Audience Reviews for Roadie
I caught this flick on 1 of the free movie channels & I'm so glad I didn't have to pay to watch it.I just did not find 1 thing funny about Roadie & to tell you how bad it was, I can't even remember if I watched it all or not
Brody Manson
Super Reviewer
½
Literally about the life of a roadie, a trucker turned roadie that is, played by Meatloaf. His character is pretty stupid, and the movie is very silly at times, but it also has good cameos from rock stars like Debbie Harry and Alice Cooper, so it's pretty cool. Overall, it's good, but it could be better.
Roadie Quotes
There are no approved quotes yet for this movie.