Road Hard
(2015)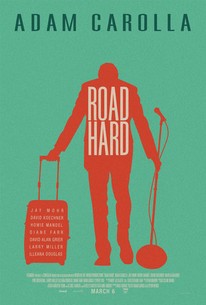 Movie Info
Years after his movie and sitcom career has run dry, Bruce Madsen is reduced to headlining one dingy comedy club after another, spending his nights in budget hotel rooms, and flying coach while his former fans sit in first class. He has only one question: What the hell happened? Amidst trying to revitalize his career, rekindle his love life, and put his daughter through college, Bruce knows one thing for sure - he must get off the road - hard. ROAD HARD is the story of that journey.
News & Interviews for Road Hard
Critic Reviews for Road Hard
Audience Reviews for Road Hard
A stand-up comedian who had a flared-out popular career returns to the road. Almost nothing about this movie works. Obviously autobiographical (the protagonist starred on "The Bro Show" instead of "The Man Show" and his ex-partner is a late-night talk show host), Adam Carolla's starring vehicle is a sad, atonal mess of a predictable plot with stale jokes and bits that are as unimaginative as they are poorly delivered. The film wastes its first and second acts on repetitive plot events that serve only to set up one of the most predictable third acts I've ever seen. Only Howie Mandel's cameo is at all funny, with the rest of the supporting characters either completely unimaginative (his daughter who serves only to provide means for exposition) or trite excuses for preconceived bits (David Alan Grier's stand-up about African American names being similar to the names of medications). The end of the film reveals that it was crowd-sourced, and this film is almost bad enough to make me believe in the studio system. Overall, fuck this movie and everyone who gave money to make it.
Jim Hunter
Super Reviewer
Road Hard Quotes
There are no approved quotes yet for this movie.