River of Grass
(1995)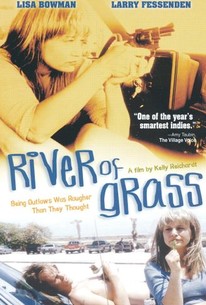 Movie Info
Cozy, a thirtyish Florida housewife bored to tears with her drudging life, runs away with Lee, a young loser in search of thrills. After accidentally shooting a man, Cozy and Lee try to go on the lam as every outlaw couple before them--without quite ever getting it right.
Critic Reviews for River of Grass
Audience Reviews for River of Grass
"So if we weren't killers, we weren't anything." - Cozy A housewife named Cozy is far from it and fed up with the mundanity in her Floridian life. She falls in with a loser named Lee and the two make like BONNIE AND CLYDE in this quick and dirty indie gem. Kelly Reichardt's directorial debut is overflowing with ideas; it appears the writer/director flushed all the film school style out of her system with this project before charting new territory. RIVER OF GRASS is a brisket but nevertheless striking debut.
J.S. Lewis
Super Reviewer
Bored, Cozy(Lisa Bowman), a housewife, dresses up to go to a nearby bar where she encounters Lee(Larry Fessenden). Lee, despite rarely leaving his grandmother's house by the age of 29, has somehow and coincidentally come into the possession of the gun formerly belonging to Jimmy Ryder(Dick Russell), Cozy's father and a police detective, for which he has been suspended for one week. All of which has nothing to do with Lee inviting Cozy to go swimming in a friend's pool. Even working on a miniscule budget as she is with her first film, "River of Grass," one can see definite filmmaking promise in Kelly Reichardt that she would deliver on in her later films. As it is, there is a very cool soundtrack as she manages to capture south Florida in a unique way while beginning her specialty in following characters who achieve varying levels of success in trying to get where they are going. That might also explain the lackadaisical, yet deadpan, pacing for which I will overlook the short eternity the plot, what there is of it, takes to kick in.
River of Grass Quotes
There are no approved quotes yet for this movie.