Riding the Bullet
(2004)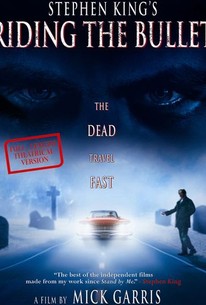 TOMATOMETER
AUDIENCE SCORE
Critic Consensus: Stephen King adaptation veteran director Mick Garris has lofty storytelling goals which ultimately flail and undercut the story's terror.
Movie Info
A young man who has flirted with death is forced to come to terms with mortality in this tale of terror based on a story by Stephen King. Alan Parker (Jonathan Jackson) is a college student studying art at the University of Maine in 1969. Cursed with an over-active imagination, Alan constantly obsesses over the worst outcome of any situation, and when he begins to suspect his girlfriend, Jessica (Erika Christensen), is thinking of leaving him, it drives him to the brink of suicide. Shortly after this brush with death, Alan receives word that his mother, Jean (Barbara Hershey), has suffered a severe stroke and may not pull through. Alan grabs his jacket and hits the road, hoping to hitchhike the one hundred miles to the hospital. As it happens, Alan is trying to catch a ride on Halloween night, and after he's picked up by one George Staub (David Arquette), he realizes that he's riding the highway with a creature not of this Earth. Riding the Bullet was directed by Mick Garris, marking the fourth time the filmmaker has brought one of King's stories to the cinema or television screen.
Critic Reviews for Riding the Bullet
Audience Reviews for Riding the Bullet
Riding the Bullet was Stephen Kings "depressed phase" work I assume. lol
I liked this Stephen King adaptation of his short story taken from 'Everything's Eventual', the author's most recent collection. Mick Garris ('The Stand', 'The Shining (TV)') has not strayed too far from the path with this macabre tale of a hitchhiker who is offered rides from a handful of weird and wonderful characters one Halloween night. The year is 1969 and Alan Parker (Jonathan Jackson) learns that his mother (Barbara Hershey) is dying of cancer, so instead of going to see Lennon and McCartney, the troubled teenager is forced to hitchhike back to his hometown. He is eventually offered a ride by a young man with a sinister secret. Parker is then forced to confront all the demons from his past if he is to survive what could be the last ride of his life. Like the original story, the film has all the makings of a campfire tale. There are lonely stretches of highway flanked by tall pine trees - roads that are interspersed with graveyards and other dark places one shouldn't venture into after the sun sets. There are carnivals and rollercoasters. There are plenty of laughs as well as scenes that will chill your soul to the bone. Even Death himself makes an appearance. Terrifyingly entertaining, 'Riding the Bullet' will also make you question what really is important in life. Also stars David Arquette and Cliff Robertson.
Cassandra Maples
Super Reviewer
Adapting Stephen King's internet released novel shows that anything King will be adapted. Riding the Bullet is a bit like The Dead Zone, in that it has a very episodic narrative. Jackson goes hitchhikes from car to car, with each driver being weird and creepy. Each driver also makes Jackson confront a part of himself. It's a repetitive formula that gets tiresome. It also has the last driver being David Arquette who goes a bit too crazy and borders on comical. Robertson is the best, he's slightly peculiar and unsettling. It's the only real time that the enclosed space and lack of real escape becomes scary. Decent enough, but should have been shorter.
Luke Baldock
Super Reviewer
Riding the Bullet Quotes
There are no approved quotes yet for this movie.