Riding Giants
(2004)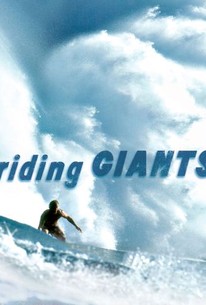 Movie Info
A semi-serious, often rollicking, multigenerational insider's look at the origins of surfing, the colorful and subversive birth of surf culture, and the mythology and lure of the "big wave." This passionate and fluid film is the first authentic history of surfing from its humble Hawaiian beginnings to the big business it became to the still-rebellious universe it inhabits today. "Riding Giants" is a study in individuality and freedom, the pursuit and techniques of pure kinetic pleasure, and the risk taking and attitudes that characterize its leading figures. For some viewers, this is perhaps more than they ever wanted to know. But Peralta's detailed knowledge of the surfing lifestyle, its icons and locations, its boom and exploitation by the media, and the fascination it has held for young men for more than five decades is unparalleled and fuels this expedition for the expert and initiate alike. Closely chronicling the sometimes-life-and-death drama that big-wave riding entails, the film is a visual thrill ride. But also revealed is the realization that the man versus nature dialectic never ends; the search for the ultimate wave and the spiritual pinnacle can only be pursued but never reached.
Critic Reviews for Riding Giants
Audience Reviews for Riding Giants
Nothing like seeing a documentary on a subject which isn't terribly interesting. Sean Penn actually thought this was something worth narrating. Hope he got paid well. It's polished, I'll give it that.
John Ballantine
Super Reviewer
½
"It doesn't get any bigger than this." Documentary detailing the origins and history of surf culture.
REVIEW
"Riding Giants" opens with a brief, animated, two-minute look at the first 1000 years of surfing, which ends about 1950, when the first big-name surfers began to work their magic. Using remarkable half-century old footage, the doc then follows their path to Hawaii, where surfing became not just a hobby, but a culture that was far more than the onslaught of bad surfing movies in the '50s and '60s led many to believe. The big wave surfers gradually progressed to bigger and better waves around the Hawaiian coast, where most of the surfing community was concentrated until the discovery of The Mavericks, a dangerous but glorious surfing mecca in Northern California. Eventually that locale triggered surfing's stateside explosion in popularity. But one man from Hawaii, Laird Hamilton, has sent the sport as mainstream as possible in recent years. Using teams and jet skis, Hamilton's vision and drive radically changed the mindset of what was possible as surfing entered the 21st century. Set up like a traditional documentary, Peralta's film lets the surfers themselves tell most of the stories, and he narrates when necessary to provide pertinent details. But the personalities and passion of the interviewees are what drive the picture. These guys are wired differently than most of us; there's no question about that. Their slightly irreverent but still respectful tone lets them get away with comparing the discovery of Hawaii's North Shore to Columbus stumbling upon America. An exaggeration? Of course, but the genuine emotion in their voices and faces make the words fully believable, much like a football player comparing his sport to a war. Perfectly complementing the almost mythic personalities are the ridiculously massive and powerful waves themselves. From the surprisingly good old-school 8mm footage shot from the shore to the digital in-your-face shots from a jet ski, the photography in Riding Giants is nothing short of stunning. The waves are simply huge, and even though you may have seen quality shots in "Blue Crush", you haven't seen them on this grand and wild a scale. I guarantee your jaw will drop multiple times. The fact that the history of the sport can be encapsulated in less than two hours gives the film a complete and satisfying feel, as opposed to something like Baseball, for which even ten hours was not enough. Those who don't have an interest in any aspect of surfing won't care for it, but even if you can't relate to the surfing directly, you will walk out of "Riding Giants" with a greater appreciation for the sport and a better understanding of what drives those who do it.
Lorenzo von Matterhorn
Super Reviewer
[size=1]Time is not time on the water. There is no measure unseen. There are no changes unknown. The sea cannot be earmarked for residential or commercial development. No machine can re-shape its contours. It is as it always has been and always will be. Man, given a capable vessel, can cast himself from civilization and play by his own rules. Slip back in time. Live by the eyes and everything inside. Sail by a starry compass and fleshy sextant. Two hundred years ago in the Eastern Caribbean, men did just that. But one man did it best. So good, in fact, that he'll never be remembered properly because of it. And also, he stole cats. [size=2]Such is one of the opening passages in Professor H. Yuffdink Karlybooper's prolific historical account of the under-famed 'Cat Pirate,' appropriately titled [i]Professor H. Yuffdink Karlybooper's Prolific Historical Account of the Under-Famed 'Cat Pirate'[/i], a man not only buried at sea, but by history as well. His story, quite lamentably, is shrouded by more lionized figures of political revolution and religious controversy and artistic movement; individuals of whom brandish more relevance and seemingly more excitement to attain notoriety beyond their era. But the Cat Pirate, as the German-Norwegian-Tasmanian-Nova Scotian-Argentinean professor in Caribbean history at the University of California-San Loco Mucho affirms, was a man with more moxie than most great men in time, and by all rights out-does many of the distinguished seafaring commanders spanning the world's chronology of illustrious naval feats. Also known as Captain Neumbeard, NeumDagger the Vicious, and Perilous Pete the Cockeyed (depending on which harbor he made port), the Cat Pirate earned his reputation not by his many run-ins with danger and destruction and gold-riddled glory, but with the very provenance of his most infamous moniker: he plundered cats. For the truest understanding, the under-told story behind the under-told story must first be told. [img]http://img.photobucket.com/albums/v293/neumdaddy/neumsparrow1.jpg[/img] [img]http://img.photobucket.com/albums/v293/neumdaddy/neumdagger1.jpg[/img] [b][size=1]Similarities? The Professor thinks 'NeumSparrow' was only ever a fake.[/size][/b] His ragtag crew of bizarrely educated scoundrels knew him as Captain Neumbeard, or Neumbeard the Suncatcher, but history will have it known that the Cat Pirate will be the definitive label for this man. The Cat Pirate was erstwhile best known as NeumDagger the Vicious, mostly for his one-time stint on the ill-fated [/size][/size][url="http://www.rottentomatoes.com/vine/showthread.php?t=225921"]Pirate ship o' MaDnEsS[/url], and becoming the only known survivor after the ship's last documented tour of pillaging duty on the Northern Gulf shores. Known only from second- and third-hand accounts from various surviving villagers' families, NeumDagger acquired the renowned Silver Scimitar of Scirocco, an Arabic artifact held as a crown jewel of the settling Spanish conquistadors and Imperialists at El Repite. NeumDagger sailed off the edge of the ocean for several years before reappearing during the brief reign of the eccentric Colonel Trobine Turtle Gem, a British overlord at St. Patrick's military outpost on Montserrat. The moralistic Col. Turtle Gem completely overturned the economy of this tightly wound pocket in the Eastern Caribbean, detaching himself from His Majesty's service and, Professor Karlybooper emphasizes, reality, and essentially created a sovereign but borderless entity. To fancy his zealous obsession with protecting and yet torturing felines, he established the local currency as living cats. For only the tiniest crack in this window of history, island business was burgeoning beyond all expectations, and all islanders of the affected archipelago rushed from greening hinterlands to the even greener coast, and became contributing members of the sea trade via kitty money. This is where NeumDagger resurfaced, so to speak, and assumed the new, more pirate-formalist identity, Captain Neumbeard, sailing the bonny ship 'Inevitable.' Neumbeard quickly became close friends with the despot Col. Turtle Gem, both sharing the same vague vision of redefining world trade. Turtle Gem wanted to upend the system for power; Neumbeard merely for leisure. [img]http://img.photobucket.com/albums/v293/neumdaddy/catbooty.jpg[/img] [img]http://img.photobucket.com/albums/v293/neumdaddy/bootyhug.jpg[/img] [b][size=1]If I had treasure, I'd be hugging it, too.[/size][/b] In his state of virtual nonexistence, Neumbeard became more alive than ever, hypothesizes the Professor. Karlybooper believes that in this time, Neumbeard, after years of pondering his flirtations with death, became a man of the book and of nature. He erected several small-time progressive academies promoting his own brand of world objectivity, while purveying the pirate-ish "more is more" school of thought. He also contentedly showcased his affinity for terrible rum, which seemed to catch on anywhere he taught. His students eventually became his crew, being known as characters such as Ham Beard, Goat Beard, No Beard, Half Beard, Twice Beard, Thrice Beard, Bad Luck Beard, Inside-Out Beard, Candy Beard, Poet Beard, Stinky Beard, Inanimate Object Beard, Frictionless Beard, Pro Bono Beard and Doctor Whittensworth MacKenzie Fortner, IV (he was the coxswain). Only traces of such claims can be verified, though it is known that Neumbeard educated his entire crew by some means and encouraged deviation from pedantic observation of life and of the world. Nevertheless, the Captain became a jack of all trades, a dilettante of the high seas, and a dangerous foe to those who possessed desirable cats. For when Captain Neumbeard the Suncatcher went on the prowl for cats on the moonlit ocean, you dared not stand in his way. Despite his rich mind and articulate sense of sea bound know-how, Neumbeard was still a pirate, and a scurvy one at that. Even Death itself could not change that of him. The cats were simply a means of providing for his men and adding a fabulously strange sense of excitement to their lives. He was stately enough to command and convince his 'Inevitable' galleon of rascals that chasing cats was a worthwhile purpose, and never led them to believe otherwise. Though Karlybooper believes that the crew suspected differently ("deck talk"), Neumbeard never 'let a cat out of the bag.' Still, in fulfilling their purpose, the Captain led his men on great adventures through waters charted and off the map, open seas and previously un-navigable straits, into large port cities and tiny tribal villages, all under cover of darkness. For you see, Neumbeard believed in utilizing the night for intimidation, which made for easier grabs and getaways. It became a ghostly ritual to sail in like moon-tainted apparitions and pilfer kittens of all sizes, always executed to a tee and minimizing crewmen injury, even after a day full of swilling rum and impeccable grog. This nighttime behavior acquired him the crew-anointed nick "Suncatcher," for Neumbeard would "catch" the setting sun on the horizon, hold it in his vest pocket near his heart, and set it free again at dawn, like a butterfly from a jar. [img]http://img.photobucket.com/albums/v293/neumdaddy/redbow01.jpg[/img] [b][size=1]Stare at his hat long enough, and a cat will pop out! There! D'you see it? [/size][/b] It wasn't long until the British sent in commandos to stage a coup on the sea depots on Montserrat and dispose of the madman Col. Turtle Gem (a story that [i]Heart Of Darkness[/i] author Joseph Conrad still denies influenced his works), which prompted a week of pandemonium and insurgence, but was eventually quelled. Even HMS privateers were sent for the 'Inevitable,' but sea-soaked Neumbeard was too slippery for them. The Cat Pirate's immortal revelries in the Eastern Caribbean were vanquished, and a reinstalled political morass certainly cramped his style, but he was not through yet. The last evidence of Neumbeard's existence came when he bartered off his Silver Scimitar of Scirocco at a mestizo trader's outpost on the Venezuelan coast. In exchange, the crew obtained many loads of perishable goods and preservation salts, an archaic Amazonian skiff sigil, and a re-touching of the 'Inevitable's' numerous ornate scrimshaws. And, of course, lots of dirty rum. It is presumed that the Cat Pirate and his crew sailed off to their doom in an unreturnable voyage to the stormy heart of the Atlantic, but it is not certain. Professor Karlybooper thought that the Cat Pirate should be best remembered in the following melodious self-proclaimed parable (from his book): [size=1]The plummeting Caribbean sun leaves a trail of wrinkling golden splinters in the sea, like embers from the day's dying torch. The mythical guard is now dropped in favor of a night sky full of rumbling cloudy mischief. The ocean wheezes. The corners of darkness exhale a lifeless mist. Lonely stains of land feel lonelier as fog joins hands around it to sing a silent song of fear. The universe of the night slowly mutates into the Cat Pirate's domain. The 'Inevitable' claws through the foggy dark steadfastly. But from the light in the clouds, it is but a great finger aimlessly dragging through the water. The Cat Pirate is troubled by his significance in the world, which is nothing unusual. Except that, like a gate slowly cracking open, the clouds parted this night. Not normally taken off guard, the Cat Pirate finds himself in awe of the curled light blossoming from the infant moon. This prompts an idea... a lesson. "Vestige Beard, t' th' bow wit' ya," commands the Cat Pirate. Vestige Beard shuffles up quickly. The Cat Pirate points to the waxing moon, thin and fragile, ornamental in the sky. "Tell me, what does that look like to ya?" Vestige Beard gazes harshly, but for a moment. "That sickle moon is the heel of a celestial footprint. The Gods have passed this sky only recently." "Thank ye, mate. Back t' work wit' ya." Dissatisfaction in the Cat Pirate was as clear as the moon's emanating majesty. The clouds closed their door, and an ordinary night of great adventure resumed. A few nights later, the moon again greeted the sea rogues. The Cat Pirate summond Optimistic Beard and asked him the same of the moon. "Good cap'n, I see a set of smoothed angel's wings resting high on a hangar for a bold one to claim them." Happiness eluded the Cat Pirate. A few nights later, the moon again spoke, and the Cat Pirate sent for Shakes Beard, asking him the very same question. "Behold, O Suncatcher, for where it comes tonight, methinks I see the specter face of Hamlet's dear father. Mark him, lo mark him!" Shakes Beard put down the skull and left a sullen Cat Pirate staring at the sky. A few nights later, the moon again happened, and the Cat Pirate beckoned for Sagely Dentist Beard to sally forth to the bow, once again quizzing him similarly. "Yarr, I see me a snaggletooth poking from a great invisible mouth. 'Tis a definin' characteristic, and speaks flaw and uniqueness. A human sign for human readers. And, arrr!" And again, the Cat Pirate dismisses his mate to swab duty, face as dark as the moon is bright. This continued through many cycles until the full moon of the month, commanding all to stare, bigger and more powerful than the best shore side entertainment cats could buy. Stars leapt across the sky like they were being skipped across an ocean, or fish dancing on the water of the night. The moon was just a vessel in the void. The Cat Pirate, particularly inebriated this night, called upon one last pirate, Dopey Beard, and didn't even need to ask the question for Dopey to know what he wanted from him, but he asked it anyway. "Mate... mate... tell me, what is that up there, mate?" Dopey stammered, incoherent. He paused, and gazed again. Finally, he answered. "It's... alive." The Cat Pirate dropped his bottle of rum and spun around a few times, holding his arms out wide. The other pirates collectively gasped. "Mate... that's th' worst answer yet!" The Cat Pirate skewered Dopey Beard and tipped him overboard. The next morning, when the rum was gone, the Cat Pirate admitted that the answer was correct. He maintained that his death proved a point, but he couldn't remember what it was. [size=2] [img]http://img.photobucket.com/albums/v293/neumdaddy/minineumbeard.jpg[/img] [b][size=1]"Arr, I'll fight me way back into th' hist'ry books!" [/size][/b] It's a historical tragedy that there is not more documented of the Cat Pirate, which has the potential to be a spectacular story in history, but alas, dead men tell no tales. However, as Professor H. Yuffdink continually and nerdily asserts, historians tell wondrous tales. Besides from his declaration that every Montserrat breeze off the water sounds like a cat mewing, Karlybooper wants what he says about the Cat Pirate to be known. Irregardless, with the sun in his pocket and the world in his eyes, the Cat Pirate will always continue to sail the ocean black. REJECTED SPECIAL FROM: [img]http://www.crookedriverproductions.com/Images/HistoryChannelLogo.gif[/img] (grounds: suspected mockumentary)[/size][/size]
Neum Daddy
Super Reviewer
Riding Giants Quotes
There are no approved quotes yet for this movie.