Ride With the Devil
(1999)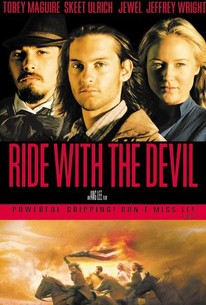 TOMATOMETER
AUDIENCE SCORE
Critic Consensus: A well-acted, eccentric Civil War film, Ang Lee's Ride With the Devil is often more visually striking than it is emotionally engaging.
Ride With the Devil Photos
Movie Info
The American Civil War is about to break out and best friends Jake Roedel and Jack Bull Chiles find themselves thrust into battle when Union marauders destroy Jack's family plantation. They join the Bushwackers, a skilled unit of guerilla-style fighters, and fight side-by-side until some of the members begin to distrust Jake and his Union sympathizing father. Jake becomes isolated from the gang and strikes up a friendship with Holt, a former black slave, as his seperation from Jack takes one final, deadly turn.
Critic Reviews for Ride With the Devil
Audience Reviews for Ride With the Devil
A beautiful character study with jolts of great action, Tobey Maguire's best performance and a great supporting cast.
Graham Jones
Super Reviewer
Very interesting film which focuses on the American civil war but the Southern Confederate side as opposed to the more regular viewed Northern Union side. Its all based on fact (a book also) and the real leadership of 'Quantrill's' fighters in 1861, loosely depicting events of that time. Its also quite unusual as its directed by Ang Lee who's films have been admittedly diverse in range but you wouldn't expect this kind of theme from him. The cast in this film is what impressed me the most really, Maguire, Ulrich, Wright and Rhys-Meyers stand out from the crowd but all perform well plus they all look great in their costumes, think of a cross between 'Interview with the Vampire' and 'Colonel Sanders' :) with their long flowing hair and thin sharp facial hair. I liked how the guerrilla's were dressed with their dandy outfits and feathered hats also, unsure if that's how they really looked but its different and visually striking. Location work looks great, filmed in Missouri with plenty of beautiful woodlands and some authentic sets as you would expect in a major western. Not allot of action in the film, only the real event of the Lawrence Massacre is all you get which is decent but not a classic historic movie moment. For a war film (of sorts) its more about the relationship between friends amidst the battles really, not overly epic and emotional as you might expect which isn't a bad thing but with a long run time some may get turned off.
Phil Hubbs
Super Reviewer
Every great director has one or two misfires. The Civil War drama "Ride With the Devil" is Ang Lee's, and it's a doozy. The photography is gorgeous at times; it captures the panoramic majesty of the American countryside. But everything else falls flat. The story is dull, the casting is spectacularly off, the actors were coached unbelievably badly, the editing is flaccid, the music is pedestrian, and the costumes and hair are downright laughable. Lee gives almost all the young male characters very long hair, making them look like girls. It's quite silly. Lee took a lot of risks with this film. He did not want to make a standard Western. This courage is admirable, but his judgment goes wrong at almost every turn. Chief among the disasters is the casting of Tobey Maguire in the lead role. I've never been a big fan of Maguire. His range is among the smallest of any big-name actor in American cinema today. All he seems capable of portraying is gentle, doe-eyed boys. His voice is so soft and high that you wonder if he ever experienced puberty. I like the idea of trying to build a Western around a girl-like male character. On paper it sounds interesting and innovative. But Lee was not able to make it work at all. His direction of almost all the actors was disastrous, and there are many of them -- far too many. Skeet Ulrich and Simon Baker are almost as bad as Maguire. Jonathan Rhys Meyers parades around like he's doing an imitation of Mick Jagger circa 1968. Jewel, making her acting debut, is bizarrely anachronistic, reeking more of 1990 than 1860. Only Jeffrey Wright, playing the one black character, knows what he's doing. Lee seems to have wanted to make a real effort to reach out to younger audiences. But filling his cast with Brat Pack youngsters isn't the way to go about that. He demonstrates here a real difficulty directing younger actors. The film Lee made before this was "The Ice Storm." After it was "Crouching Tiger, Hidden Dragon." What a stunning contrast there is between those two near-masterpieces and this goofy, boring dud.
William Dunmyer
Super Reviewer
Ride With the Devil Quotes
There are no approved quotes yet for this movie.