Revenge of the Musketeers (Fille de d'Artagnan, La)(D'Artagnan's Daughter)
(1994)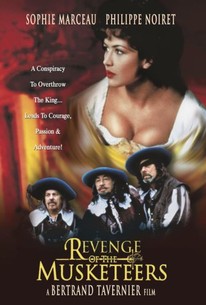 AUDIENCE SCORE
Critic Consensus: No consensus yet.
Movie Info
A brave and resourceful young woman keeps the spirit of the Three Musketeers alive in this historical adventure. Eloise (Sophie Marceau) is the daughter of the famed swordsman D'Artagnan (Philippe Noiret); while she has a remarkable gift with a blade herself, Eloise is devoting herself to her studies at a convent. However, when a slave escapes from the estate of the evil Duke of Crassac (Claude Rich) and seeks refuge in the convent, the Mother Superior (Pascale Roberts) is murdered in retaliation by the Duke's soldiers. In the midst of the attack, Eloise learns that the Duke and his men have even more dastardly plans in store; the murder of the Mother Superior is part on an ongoing scheme to throw the nation into disarray, making it easier for the Duke to overthrow the King and seize power. Joined by Quentin (Nils Tavernier), a poet, Eloise sets out to call her father and his old compatriots to action to stop the Duke; however, D'Artagan, who now lives a quiet life teaching fencing, isn't so sure he wants to wage a battle against the insurgent forces, no matter how awful they may be. La Fille de d'Artagnan (The Daughter of d'Artagnan) was released in the United States as Revenge of the Musketeers; leading lady Sophie Marceau does her own fencing on screen. ~ Mark Deming, Rovi
Critic Reviews for Revenge of the Musketeers (Fille de d'Artagnan, La)(D'Artagnan's Daughter)
Audience Reviews for Revenge of the Musketeers (Fille de d'Artagnan, La)(D'Artagnan's Daughter)
½
Delightful escapist yarn finds Eloise the daughter of the famous D'Artagnan rousing the retired musketeers back into action to thwart a plot against young prince Louis XIV. Or so she thinks after she and others misinterpret a laundry list covered in blood for a secret code! Philippe Noiret and Sophie Marceau are terrific in creating a sparring father-daughter relationship, while Luigi Proietti is a hoot as multitasking Cardinal Mazarin. Plenty of lively horseplay, wordplay, and swordplay to go around with Marceau in particular breaking some uncredited ground as an action heroine, performing all her fencing and nearly all her own stunts a couple years before the likes of Xena and Buffy debuted on American TV screens. Combining a reckless abandon with breathtaking beauty, she's simply great fun and a real joy to watch in this. Furthermore it's a movie about the famous Dumas Musketeers that's actually made in France by the French, what more could you ask for?
Doctor Strangeblog
Super Reviewer
Revenge of the Musketeers (Fille de d'Artagnan, La)(D'Artagnan's Daughter) Quotes
There are no approved quotes yet for this movie.