Return to House on Haunted Hill
(2007)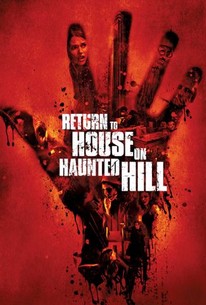 Return to House on Haunted Hill Photos
Movie Info
When the lone survivor of the original excursion to The House on Haunted Hill dies under suspicious circumstances, her sister returns to the foreboding mansion to solve the mystery of her sibling's death in the feature directorial debut of former make-up special effects artist Victor Garcia (Hellboy). Back in 1931, malevolent doctor Richard Vannacut and his entire staff at the hilltop asylum were killed when the patients revolted and set the institution ablaze. Ever since then, rumors have persisted that the spirits of those consumed in the inferno still haunt the hospital. Those rumors seemed to be confirmed when, in 1999, billionaire Steven H. Price and his guests were viciously slaughtered in the refurbished mansion. Though the authorities officially blamed Price himself for the gruesome massacre, survivor Sarah Wolfe insists that there was indeed a supernatural element at play. Now, eight years have passed since that fateful night, and Sarah's sister Ariel - a successful editor at a popular men's fashion magazine - has just received word that Sarah has committed suicide. Immediately sensing foul play, Ariel's suspicions are confirmed when a strange book arrives in the mail shortly thereafter. Sent by Sarah just before she died, the book proves to be Vannacut's personal diary. According to the diary, which Ariel manages to translate with a little help from archeologist Richard Hammer, an ancient Baphomet idol is hidden somewhere deep within the sprawling estate. In her last days, Sarah had become convinced that the idol was the source of the house's evil. Richard, too, shares this belief, and with the help of graduate students Michelle and Kyle he is determined to find the idol. But Ariel isn't about to go on a ghost hunt in the same mansion where so may atrocities have occurred, at least not until she is kidnapped by Desmond Niles and his vicious band of mercenaries. They too seek the Baphomet idol, and they too will soon discover why few people who venture into the former asylum ever come out alive. ~ Jason Buchanan, Rovi
Critic Reviews for Return to House on Haunted Hill
Audience Reviews for Return to House on Haunted Hill
½
The sister of the survivor from the first film must go to the house on haunted hill... (technically, the only people returning are the viewers, since all the characters are new). She has a connection to the house (much like her sister did) and the inmates there. Also, a professor and a bounty hunter are in search of an ancient relic. I will say that the plot was good. There was an actual reason to go in the house, and I found it plausible -- well worth waiting nearly a decade for a sequel. The working in of the Knights Templar and the Baphomet statue was very nice, and will appeal to those who like the occult. I imagine a lot of horror fans also enjoy the works of Eliphas Levi and Aleister Crowley and will feel at home with the references -- it was certainly nothing new to me. (Although, historically, the Knights did not really worship Baphomet as the myth goes.) Jeffrey Combs returns, and has a sizable role here. Not a large role, no real dialogue, but more than the five minutes he's had in other films the past few years. So his fans will appreciate that. And if you're a horror fan, you're probably a Combs fan. This film's strength is in the plot, and somewhat so in the acting. The characters are nothing special (they all have very one-dimensional motives) but they are acted well. Many will also enjoy the high blood content -- a man gets quartered, for example. And that's not the worst of it. There's even a death by refrigerator! Not quite creative on the level of, say "2001 Maniacs", but not bad. All you really need to know is if you liked the first film, you'll love this. Many reviewers have commented this is the better of the two, and I'm inclined to agree (although I'll still watch the original Vincent Price version over either of them). Solid story, good acting, blood... this is a horror film that goes above and beyond the typical straight-to-video schlock. Worth a look
David Ladd
Super Reviewer
Dull, pointless sequel to the enjoyable and fun remake from 1999. It's probably the least scariest haunted house movie I've seen with no real attempts at scares or building atmosphere at all! But, it had some plus points: two lesbian ghosts, Jeffrey Combs returning briefly as Dr. Vannecut and a few nice gory death scenes which are worth the wait. Mediocre overall though.
½
"Return to House on Haunted Hill" An average horror film. The effects budget is okay, with innovative, but slightly CGI-ish effects. I liked the face skinning and the quartering (even though it's doubtful the entire body would explode from simply having the limbs pulled off.) The location used to represent the House/Hospital in Los Angeles was an atmospheric ruined building in Bulgaria. From the outside and entryway, I thought they skillfully tried to match the setting of the original movie - but they got it seriously wrong by not having the trademark stained glass ceiling, gallery of skeletons on display and zoetrope treatment rooms. Sorry, it didn't feel like the same place! The deaths were by the numbers, it was predictable who would die next. The leading lady was the sister of the survivor girl from the first movie; it was obvious she'd survive. The other characters were stupid and greedy treasure hunters, looking for the Baphomet statue which Dr. Vannacutt hid somewhere in the house. There was no cheap CGI shadow ghost this time; instead the phantoms were the creepy smiling and teleporting Dr. Vannacutt (Jeffrey Combs reprising his great role), his nursing staff, and a dazzling array of freakish tortured mental patients, including a pair of lesbian ghosts. The writers couldn't resist using the house lockdown plot device again; but continuity was thrown away when they went to the basement and saw windows with daylight coming through clearly. The first film was much more fun - this one was forgettable.
Lafe Fredbjornson
Super Reviewer
Return to House on Haunted Hill Quotes
There are no approved quotes yet for this movie.