Return of the Secaucus Seven
(1980)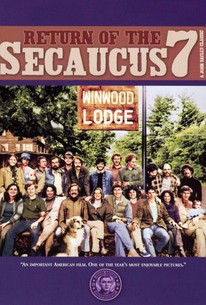 Return of the Secaucus Seven Photos
Movie Info
Antedating The Big Chill by three years, this engaging drama by independent director John Sayles was the first American film to take a group of former radicals and plunge them back together again many years later. Originally, seven of the protagonists were arrested back in Secaucus, New Jersey in the 1960s when they were heading out to a demonstration in Washington, D.C. Now most have married and they get together in rural New Hampshire to go over old times and find out what everyone has been doing. Their personal relationships are labyrinthian and continue to evolve, but it is their repartee and wit that spice up the drama and maintain an interest in their long sessions of dialogue.
Critic Reviews for Return of the Secaucus Seven
Audience Reviews for Return of the Secaucus Seven
½
A dull kind of proto-mumblecore that nonetheless has moments of insight and sincerity.
Sam Barnett
Super Reviewer
Well before "The Big Chill" came along, John Sayles made this terrific low-budget film. If you are looking for slick-filmmaking go elsewhere. If you want something that is different, and for me far more believable, than most Hollywood films try this one. 2 Stars 10-26-13
Bruce Bruce
Super Reviewer
½
A film that is more important as a piece of film history than it is a good film. What it really is, is...nice. Well directed, but clearly low budget. A fun story full of drama, a bit of comedy and a very young David Statham. Worth checking out. and don't believe the gossip, while it predates Big Chill it neither inspired it, nor is it the first of the "old friends get together and..." genre.
Ken Stachnik
Super Reviewer
Return of the Secaucus Seven Quotes
There are no approved quotes yet for this movie.