Return of the Killer Tomatoes!
(1988)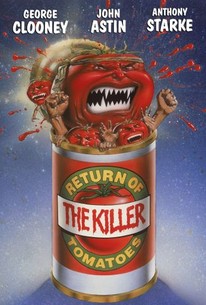 Return of the Killer Tomatoes! Photos
Movie Info
It has been 25 years since the last Killer Tomato has been squished into sauce. To this day the tasty red fruit are banned, and some folks fall in to paroxysms of fear at the mention of tomatoes. Still the general public has been lulled into believing that they are finally safe from the genetically engineered scourge. The purpose of this sci-fi sequel is to prove them wrong. The trouble begins when a pizza delivery boy (the pizzas only use non-tomato-base sauce) falls in love with a beautiful girl. Little does he know that she is the assistant of wicked Professor Gangreen who has engineered a brand new kind of tomato that can assume human form.
Critic Reviews for Return of the Killer Tomatoes!
Audience Reviews for Return of the Killer Tomatoes!
It's completely bonkers and proud of it so you just have to give in and roll with it
Marcus Woolcott
Super Reviewer
Return of the Killer Tomatoes is a hilarious comedy horror film. This film stars a young George Clooney. This comedy horror film is really over the top, and everything is done deliberately. The film is pure fun from start to finish. This is the type of comedy horror flick that should only be watched by fans of these films. If you're going to expect something serious here, forget it. This film is pure cheese from start to finish. Sure the premise is stupid, but that's what makes this film so much fun. The acting is average, and is exactly what you'd expect from this type of film. There's plenty of memorable comedic moments in this film to appeal to horror comedy fans. Everything is so over the top, but it's done on purpose. Return of the Killer Tomatoes is simply a great Comedy horror flick that spoofs old school monster flicks, and other genres as well. The film isn't perfect, but it manages to be very entertaining. The best way to describe this is a mindless comedy horror flick that shouldn't be taken seriously whatsoever. This is a fun comedy horror flick that will appeal to B movie fans. The story is simple, yet it works. I enjoyed this film, and I thought that the film was a good sequel that equalled the cheesy fun of the first. There's some very funny performances here, and you'll be constantly entertained by this film, if you're in the right state of mind.
A perfect sequel to a great spoof film. Very 80s, and extremely hilarious on so many levels. If you liked the first one, you need to see this one.
Return of the Killer Tomatoes! Quotes
There are no approved quotes yet for this movie.